Having a recognizable brand is perhaps the most important thing to a business. Branding is your logo, motto, and color scheme. It's what customers remember about your business. If your potential customers don't recognize your brand, they won't engage. 
One of the best ways to build brand recognition is through SEO. Through this article, you'll learn how they are related. You'll also learn SEO strategies that will ensure consumers will easily recognize your brand.
But why do you need to focus on brand recognition in the first place?
Importance of brand recognition
If your potential customers don't know who you are, you can't sell to them. Customers engage with brands they recognize and trust. According to a report by Edelman, 81% of customers must trust a brand to buy from them. If your brand is familiar in the customer's minds, they are more likely to choose you over your competitors. 
Having a recognizable brand gets customers to engage with your marketing and enter your sales funnel. It also helps you get new leads which results in sales. 
Think of it as a cycle. The better your brand recognition, the more likely you'll generate sales again. The more sales you have, the more likely consumers will, again, recognize your brand! 
Why SEO matters for brand recognition
Statistics by SmallBizGenius show customers need five to seven impressions to remember a brand. So, how do you get these impressions? Through an effective SEO strategy. You want to appear as high as possible in SERPs to increase your chances users will see you. 
The more time a person spends interacting with your brand through your website, the more they are likely to recognize you the next time around. If they purchase from you, you'll get even better brand recognition! Not to mention increased sales.
Simply put, the higher you are in SERPs through good SEO, the more visible you are to consumers. That translates to improved brand recognition the next time around.
Ways to improve SEO for improved brand recognition
So, now the question is this: How do you improve SEO to improve brand recognition? Let's look at some ways.
     1. Use structured data
In the world of SEO, structured data refers to a type of markup on a webpage that allows search engines like Google to interpret how it will display your data in SERPs. So, for example, the code that would tell Google that random numbers on your website are your business contact number looks something like this:

When a bookstore like Full Circle Bookstore in Oklahoma, for instance, uses that type of markup in its site and appears in SERPs for a specific search query, users may see something like this:

You might ask, but what does structured data have to do with SEO? Well, even if structured data isn't a direct ranking signal, it can help you rank higher in SERPs indirectly. When you give people additional data about your business, you increase the chances someone clicks on your link.
An improved clickthrough rate can lead to improved SEO rankings. That's because when a URL is frequently visited, Google concludes that the page is valuable. 
     2. Ensure a great user experience
If you want to rank well on search engine results pages, you must ensure your website provides a great user experience. Google's algorithm, after all, takes into account just that when ranking websites. 
Besides, having a good website user experience is great for your brand image. When people can easily navigate your site, they'll associate your brand with great service.
But what exactly should your website have to ensure a great user experience?
Here are the fundamentals:
Few things frustrated customers more than a slow website. According to Portent, website conversions drop by an average of 4.42% with each additional second of load time. So, optimizing your website for fast load times is essential. Optimize your images and remove render-blocking JavaScript. Assess your page speed with Google's PageSpeed Insights.
Your content needs to be accessible to customers. The more customers have to click through pages to find what they need, the more likely they will leave your website. 
Seamless customer journey 
Tools like Google Analytics allow you to see the paths customers take on your site. If one element is letting you down, fix it, as this is where you are likely losing your customers. 
Make sure your logo features across the website. The idea is for your website visitors to associate that logo with your brand. Don't forget to ensure consistent branding as well. Visit professional brand agencies websites for more examples. 
Create content in line with user's intentions
If you want to increase your chances of appearing in SERPs for improved brand recognition, you need to make your content relevant to user's queries. So, two things. 
One, you need to know what your target audience is searching for.
Two, you need to include those keywords in your content to maximize the chance of it appearing at the top of the SERPs.
Let's talk about that first point.
Start by defining your audience. That's where customer personas can help you.
Customer personas are fictional representations of your ideal audience. They contain important data about them, including their problems. These are the problems they are probably looking to find solutions to on Google.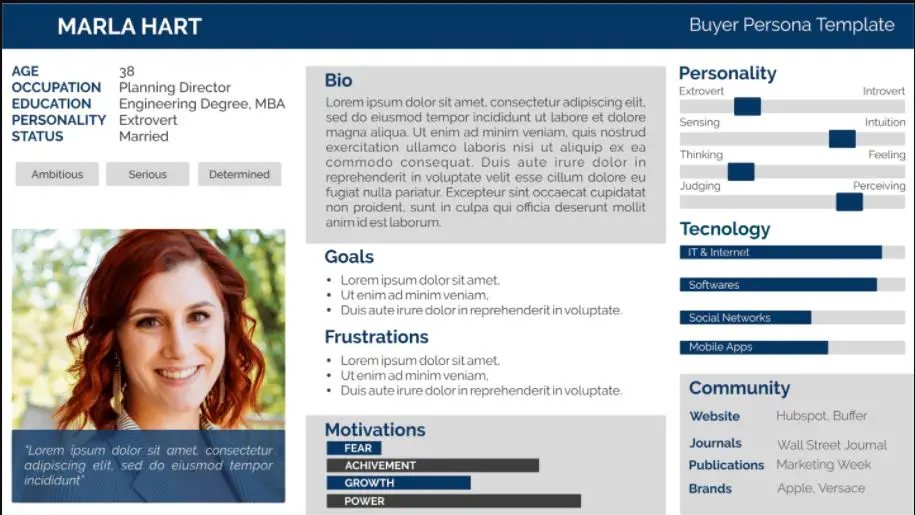 Having a customer persona will help you define your brand voice and the pain points to address in your content. Once you've gone through this process, you'll need to use relevant SEO tools to optimize your content for the search results.
Tools like Clearscope, Frase, and Surfer SEO are invaluable for content creation and content optimization. These tools will help you to identify the keywords to include in your content, the headings to use, questions to answer, and more. All of this data is gathered from a review of the ranking content in the search results.
Here's an example of the UI for Frase, one of the SEO optimization tools I mentioned.
On the right side of the dashboard, you can see that you have a list of keywords alongside the suggested frequency. There are tabs for questions to answer, content ranking for the term you are targeting, and more on the right menu.
Utilizing all of this data to optimize your content drastically increases the chance of it ranking.
There are many examples of companies that use these types of tools to optimize their content. Nextiva's SIP trunking provider sales page is a nice example of best practice.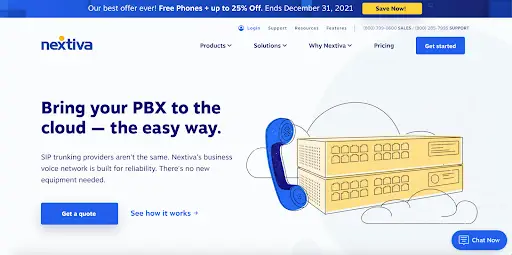 Above the fold, they have the initial sales copy with a call to action.
The sales copy is not optimized for SEO. Immediately below the fold is where the magic happens. You can see they have a definition of SIP trunk. That definition targets the Google featured snippet.
Below that definition, you have sections that address SIP trunking. The page goes on to explain why you might want SIP trunking and has a whole section with Frequently Asked Questions.
The page outline does a great job of addressing customer pain points, answering questions, defining terms, and including all of the relevant keywords. Creating SEO optimized content like this for your site dramatically increases the likelihood of your content ranking.
     3. Invest in link-building 
Another crucial part of a successful SEO strategy is link-building. If you can get backlinks from sites with high domain authority, it will have a huge effect on your search rankings. Google looks at backlinks as votes of confidence made by sites that link to you. So, if many authority sites link to your content, Google is likely to conclude that your content is high-quality and should therefore rank.
But how exactly can you get those backlinks? Well, sure, you can wait for other sites to discover your high-quality content. That, however, might take too long. You need to get your content in front of them.
Guest posting is a great way to generate backlinks. Write a great blog post that contains links to your content on your site, and have that blog post (guest post) published on another website. Check out this sample guest post from Neil Patel on Geekwire: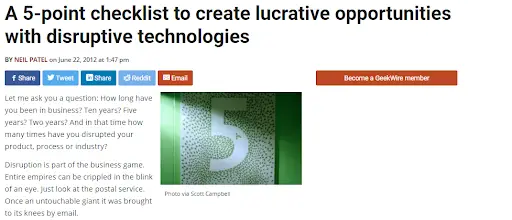 The guest post contains a link to Kissmetrics, one of his companies.
The more backlinks a piece of content gets from relevant authority sources, the higher the likelihood Google will show that content on the front page of the search results. When that happens, Google can analyze user quality metrics like bounce rate to assess whether the content deserves to be shown on the first page of Google.
https://www.wpfreeware.com/new/wp-content/uploads/2020/05/55694-big.jpg
800
800
Hazel H
https://wpfreeware.com/new/wp-content/uploads/2017/07/cropped-wpfreeware.png
Hazel H
2021-11-30 09:03:02
2023-02-10 14:20:22
How can SEO help you build brand recognition?