WordPress is the platform that students are constantly using for blogging and completion of assignments. Quizzes comprise of the main way for students to get graded and often, due to being in a crunch for time, students are unable to perform as well as they would like to. Open Source Software is a great economical resource for students to refer to which can help maintain their grades in the long run.
Quizzes have long been proven to increase incoming traffic to your website as they get a reader to stay longer on your website as well as give them a reason to engage. They are also known to create an increased amount of social media shares than regular articles.  Usually, having a quiz on your website can take up a lot of time and effort, but WordPress Quiz plugins are there to help you out
Now that there is an increasing shift towards the online method of teaching, more and more educators as well as aspiring teachers are looking for means to evaluate online. WordPress Quiz plugins are a great way for them to get started, especially due to their ease of navigation and simplicity in usage.
All you need to do is come up with the questions you would like answered – the plugins will take care of the processes such as the collection of responses and the publishing of scores!
Read on to find out what some of your best options are.
Quiz Cat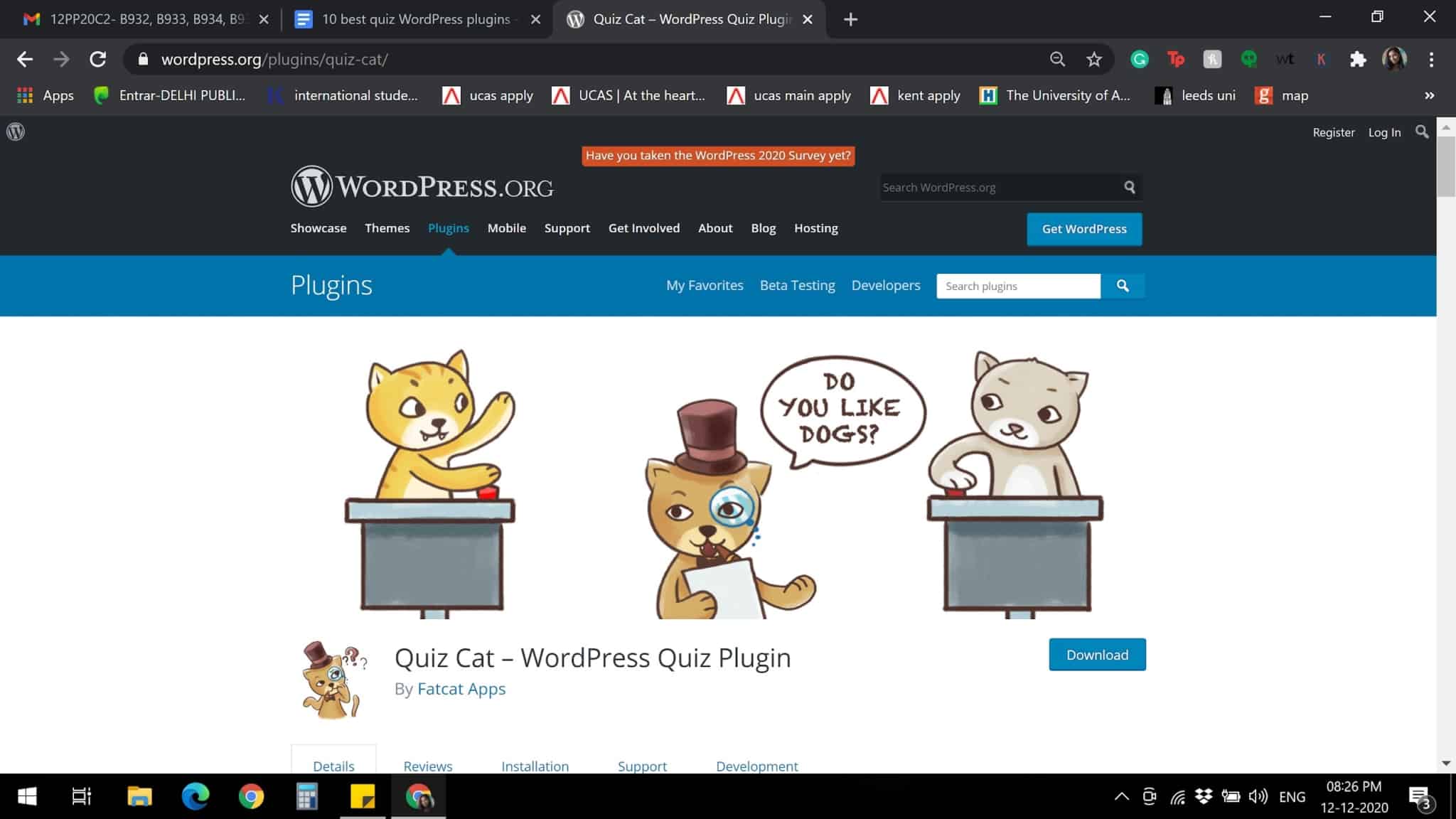 This plugin allows you to create any number of quizzes, each having as many questions as you desire, with two to four options as answers. It also randomly shuffles the questions so that there is scope for variety.
Upon the completion of the quiz, you can also flash a custom-made message.
This quiz plugin lets you make a headline, image as well as a Start Quiz button according to your liking. You can also add a small description based on the scores achieved by a respondent.
All you require to design the quiz format is a simple short code that you may paste into and post or page on your website, which will display the quiz wherever you'd like.
Formidable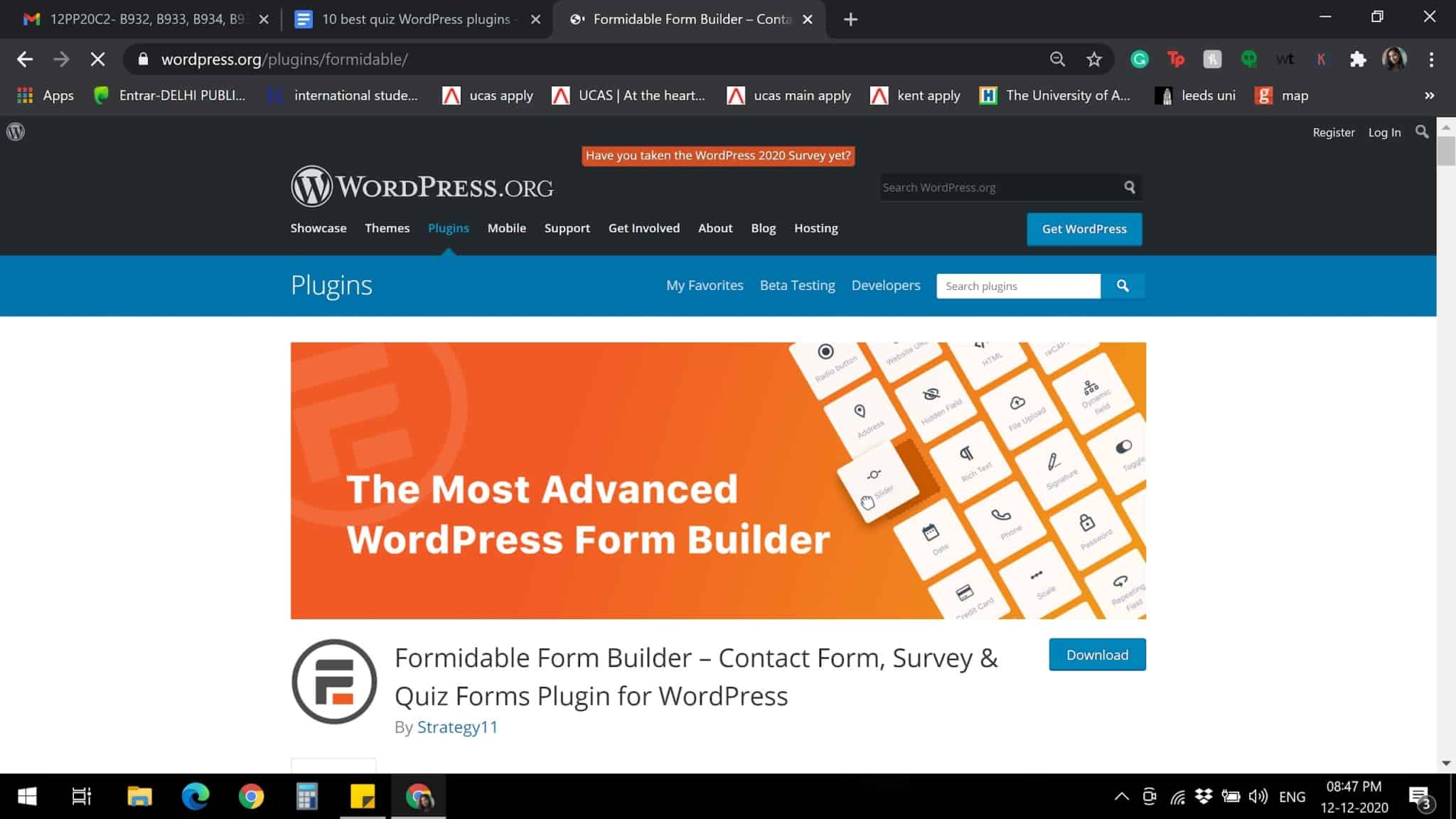 This is a versatile and multi-purpose plugin that is available to use free of cost! It helps you build constant forms, surveys as well as quizzes of all kinds. After you install and activate this tool, it takes only about a minute to come up with the quiz that you desire. There is an easy to use drag and drop visual builder that makes this process almost instantaneous – you need no prior knowledge of coding.
WP Quiz
This plugin helps you rope in traffic from different social media platforms by simplifying the process of creating and publishing quizzes. The Trivia quiz lets users pick among different options and proceed until the results get displayed at the end. There is also a Personality quiz that lets users respond by selecting options, agreeing/disagreeing or selecting statements. Then, users can match responses to the answers that will reveal their specific personality type. The best feature of this plugin is that it is fully supported by Facebook's Open Graph – which means that if shared to Facebook, it will include the user's answer image.
Quiz and Survey Master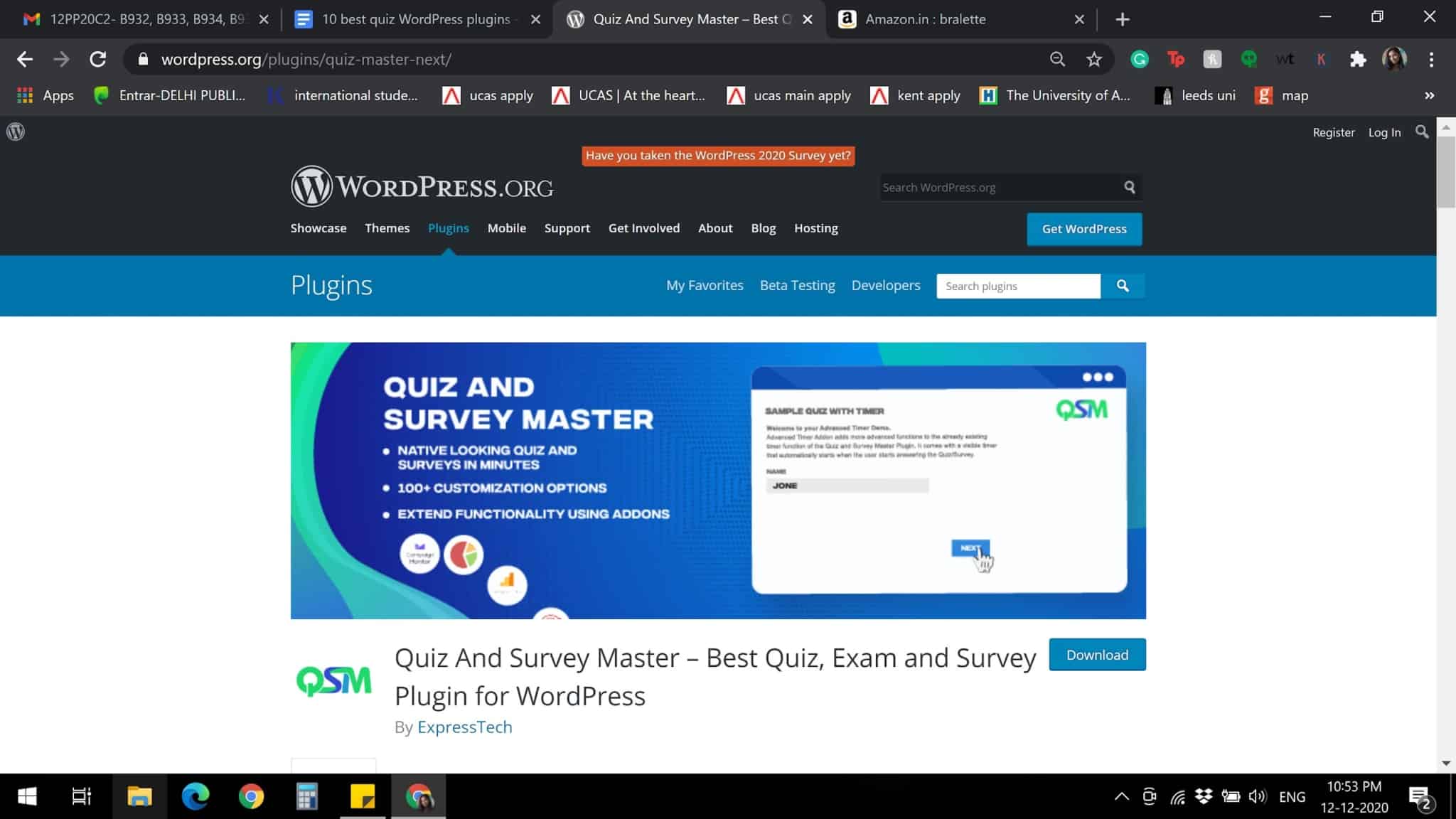 This plugin allows users to both conduct surveys as well as quizzes – the entire text in the quiz can be customized to your liking. You can choose from various question styles such as multiple choice questions, drop downs, checkboxes, fill in the blanks and true or false etc. After the quiz has been taken, both you and the respondent receive an email with the results.
 Forminator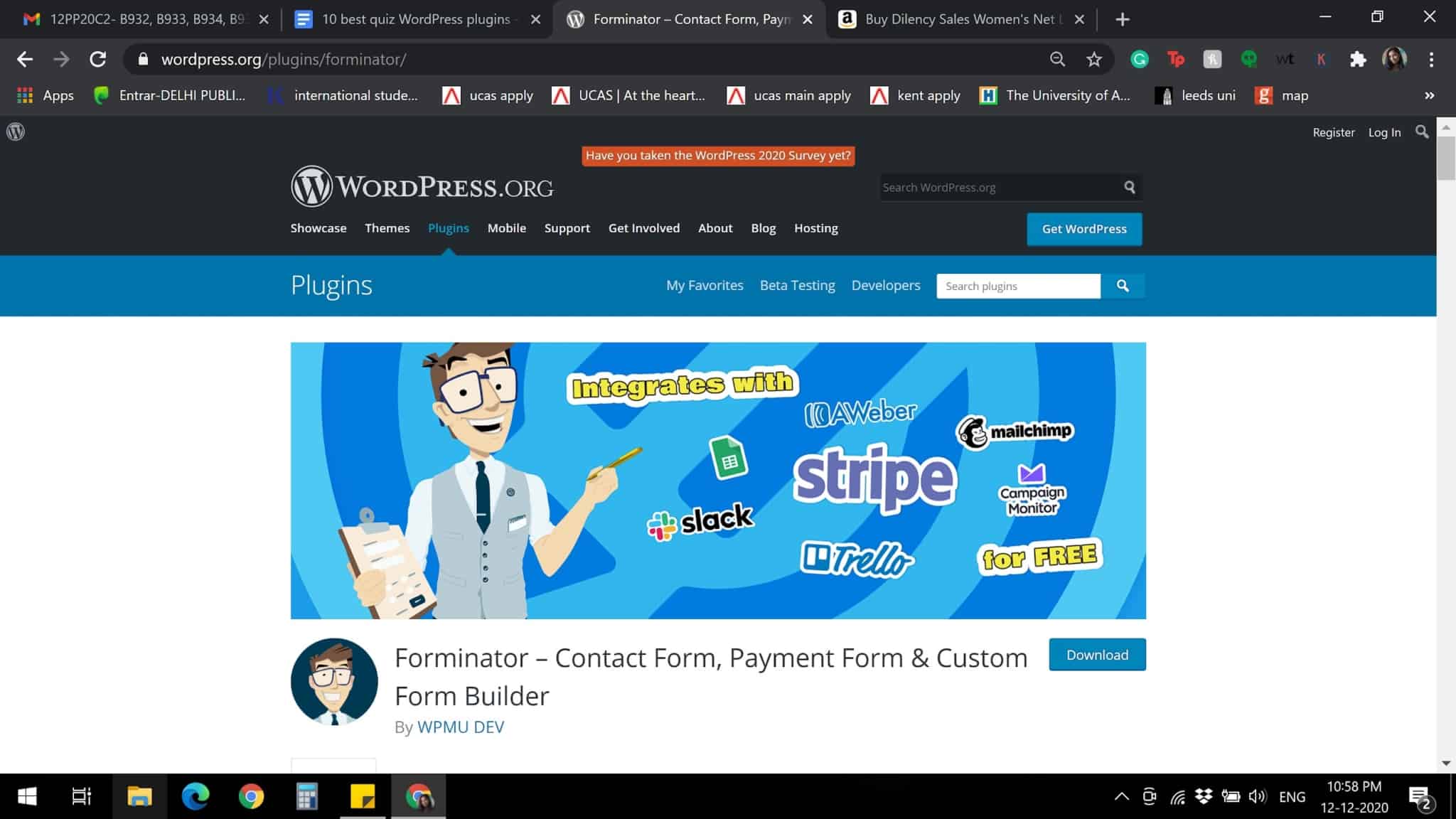 This is a versatile and free WordPress plugin that helps build forms, polls, as well as quizzes. You do not need to perform heavy tasks such as backend coding, and Forminator helps out both beginners as well as advanced web developers.
You may create various types of quizzes that your respondents can then share onto their social media platforms.
HD Quiz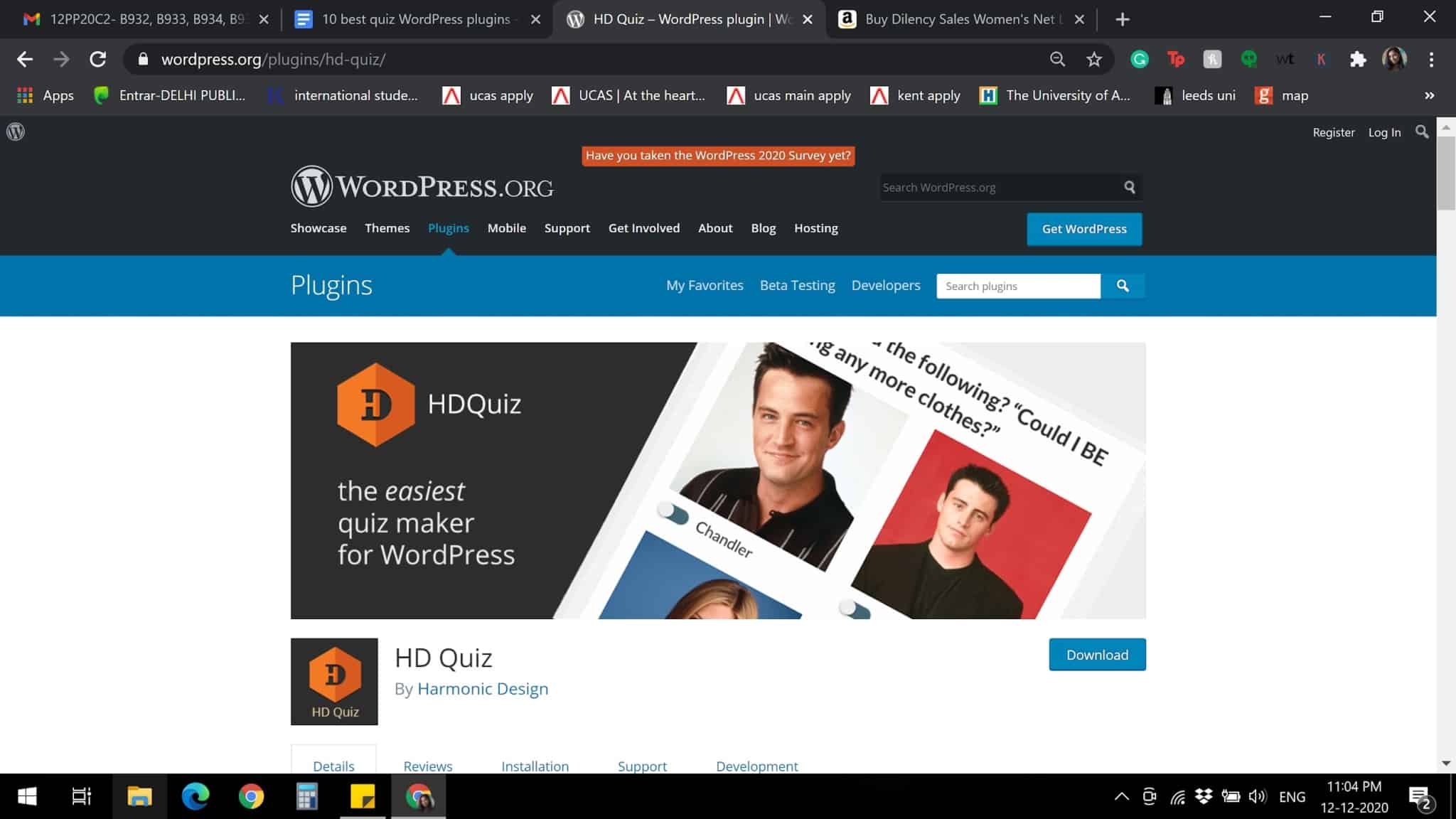 This plugin is undoubtedly one of the simplest and fastest WordPress Quiz plugins available till date, and all the tools that it has to offer can be used effortlessly.
The design of this plugin enables responsiveness, mobile-friendliness as well as touch compatibility. You can also hook it up to any of the usual modern web browsers.
It allows you to modify questions as desired, add a quiz timer as well as animations and also set images for each answer. The social sharing feature helps drive in some extra traffic to your website.
 Quiz Maker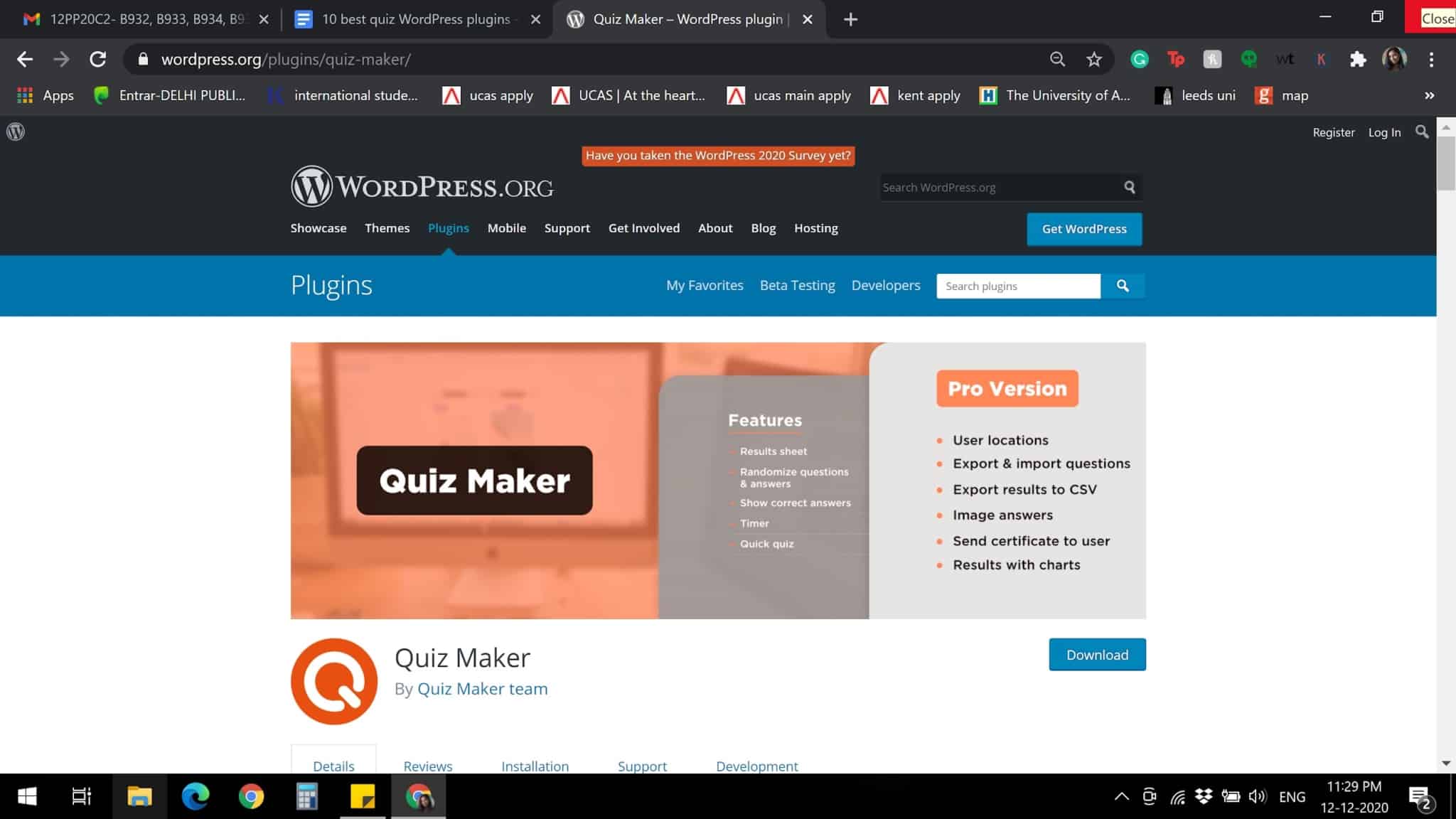 This is available both as a free as well as a pro (paid) version – you should give the unpaid version a shot first and then pay if you want to avail the features that the upgraded version has to offer.
Quiz Maker allows you to completely be in control of how the layout will end up looking like – it lets you alter the height, width, colour, etc. Make sure to first preview your design before going ahead with it!
Quiz Tool Lite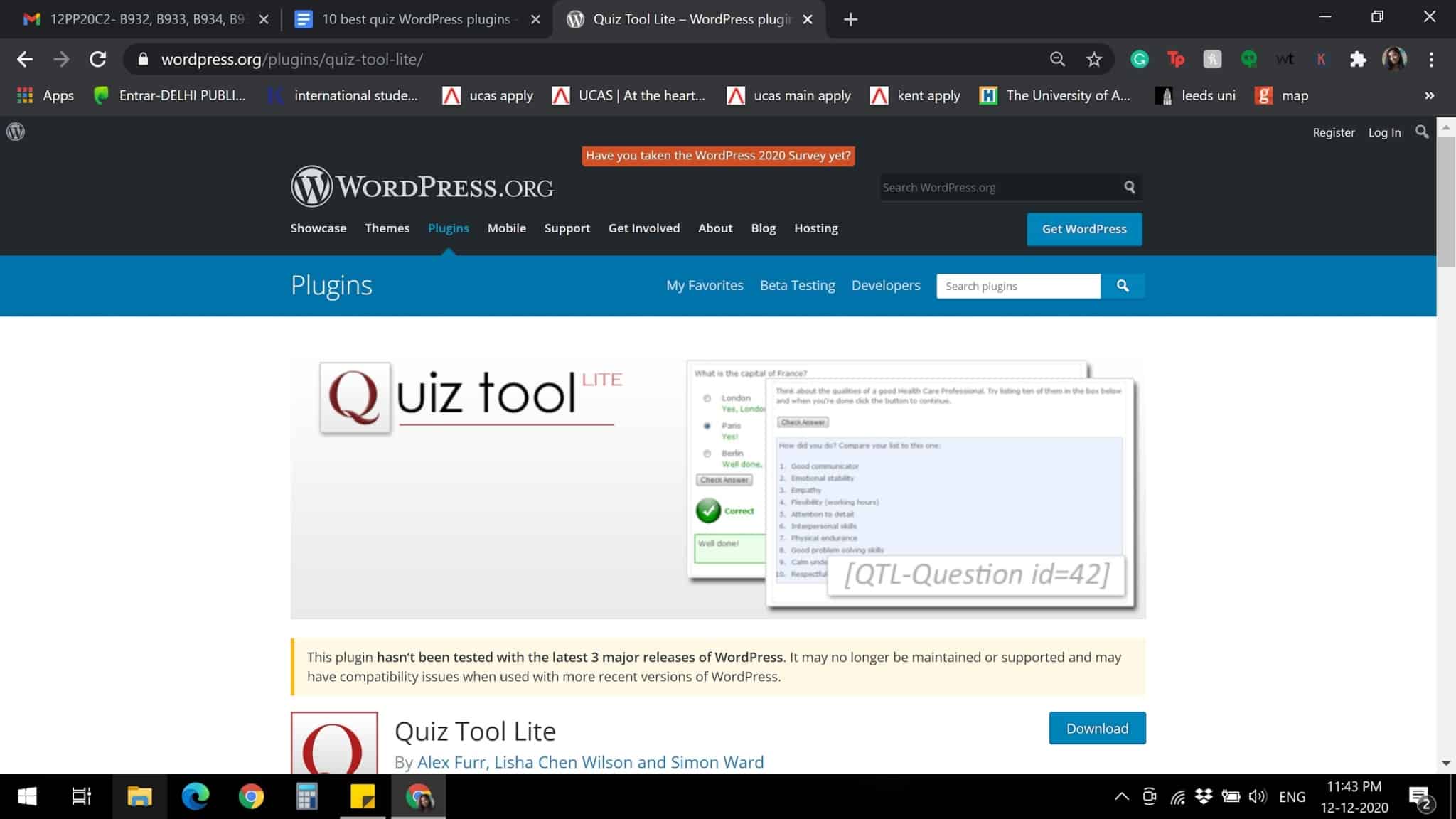 Quiz Tool Lite is a free WordPress plugin that allows everyone to create the quiz that they desire – you require no prior knowledge to successfully be able to wield this tool.
It offers short codes, time limited questions, a date window as well as reflective question types.  This quiz is very simplistic in design which prevents any cause of distraction. Respondents can choose whether they would like to attempt your quiz through their mobile devices or desktop computers.
WordPress Simple Quiz
As the name suggests, this is a simple and straightforward plugin to help add quizzes to your blog. It comes along with several powerful features that helps you create any kind of quiz that you would like. You can add as many quizzes as you want to your website and all you need to do for that is quickly generate and paste a shortcode onto the blog.
Watu Quiz
Like the other free plugins that have been mentioned on this list, this plugin is also available in a paid version which comes loaded with features, but the basic unpaid one suffices for most users. You can use it to create full-fleged exams as well as short quizzes and then display the results upon completion.
It allows the creator to individually grade and give points to every question and then automatically sums it up for you and presents it in a bar chart that compares the user's performance to the total points.
Users can choose between multiple choice questions as well as single choice questions, and can also make some of them as mandatory to answer. Watu Quiz is responsive as well as touch-friendly.
Author bio: Jane is the co-founder and nursing assignment expert at Top My Grades. She has 10+ years of experience in the IT sector, helping with computer science projects, IT programming assignments, and web development projects. Other than work, you can find her outdoors on a trek with friends or fishing by a lake.
https://www.wpfreeware.com/new/wp-content/uploads/2020/03/Dixonlamber.jpg
625
900
Hazel H
https://wpfreeware.com/new/wp-content/uploads/2017/07/cropped-wpfreeware.png
Hazel H
2020-12-30 10:58:16
2020-12-30 10:58:21
10 best quiz WordPress plugins