It is no doubt that many web-designers have an interest in expanding their reach. A large number of them are looking for additional ways to attract more clients and grow earnings. Fortunately, digital marketplaces are always here for those who require a platform to share their talented work. One of them is the TemplateMonster Marketplace.
As you can understand, a large number of people identify it as one of the best places to sell and promote their brand. There is no need to say that every marketplace has its requirements, product categories, commission fees, and audience. Today, we are going to research all the details about TemplateMonster Marketplace instead of you. Does it hold the most promise for your assortment? Will it provide you with an excellent and smooth starting point? Let us go through all the points here and now.
Presenting TemplateMonster Marketplace and Its Benefits in Outline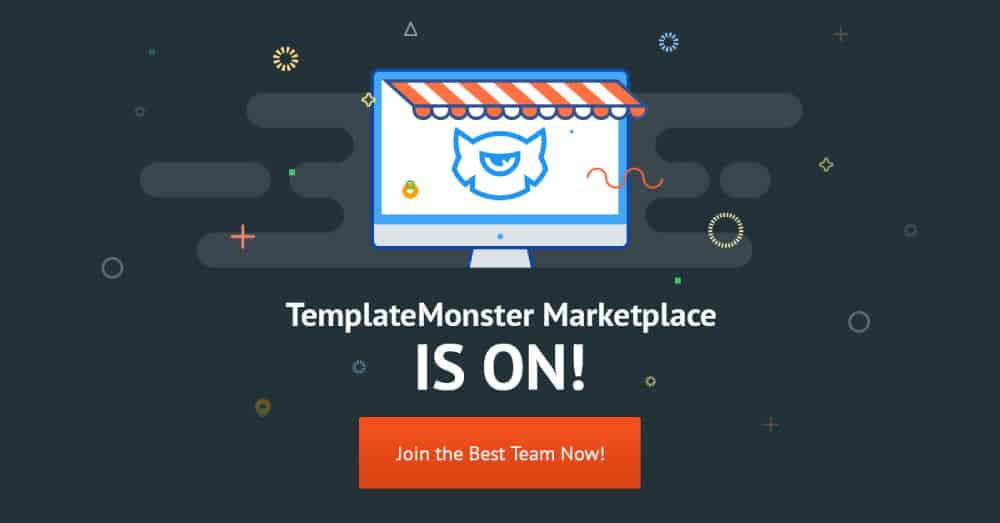 TemplateMonster has been conquering the digital world since 2002. In the beginning, different web-designers did not have a chance to sell their products here. However, everything changed a few years ago. These days, TemplateMonster Marketplace salutes all the people who produce their unique and high-quality digital items. These include web-designers, developers, and studios who crave to present their ready-made solutions and earn money for them.
What is in the TemplateMonster Marketplace for Authors?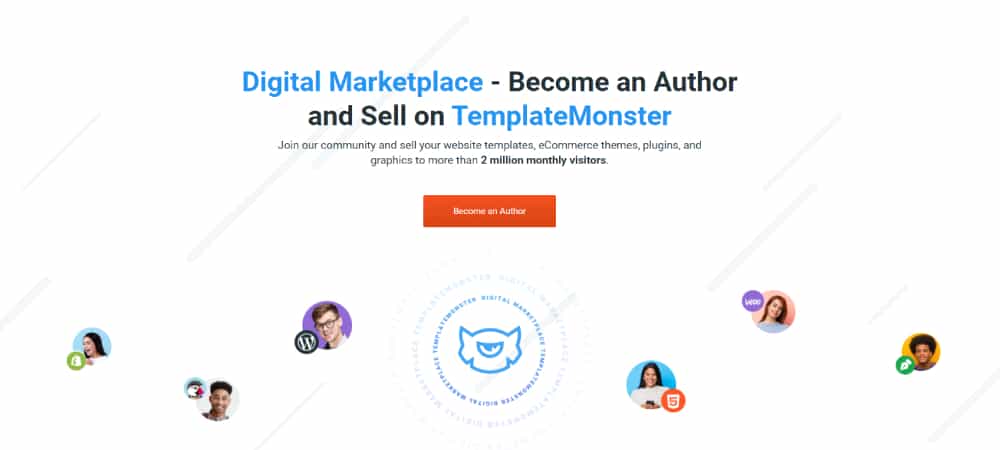 Before submitting their work to the marketplace, every potential author needs to know all the details. Now, we are going to look through them and understand whether TemplateMonster Marketplace meets your needs.
First of all, it has a large network of two million members. Every month, an impressive number of users search for the best items on the TemplateMonster Marketplace. It means that your author's horizons are going to broaden. In addition to this, the audience consists of people who browse the Internet just for fun and visit the resource accidentally. These are highly-relevant clients who can potentially purchase some ready-to-use items from your assortment. In other words, we are speaking about your core audience here.
TemplateMonster Marketplace is a platform that helps to improve your brand awareness and recognition. All the clients get a chance to share their thoughts about the purchased items. Then, other potential customers are going to get familiar with them and consider your assortment.
When you get down to being an author, it is possible to face a few problems. Unfortunately, no one cannot get insurance on understanding every single detail from the very beginning. If you get confused, it will be possible to turn to different guides. They are available for all the crucial topics. How to add a product to the marketplace? How will you be paid for your product sales? How can you grow your sales? These are only a few questions that you can get answers to.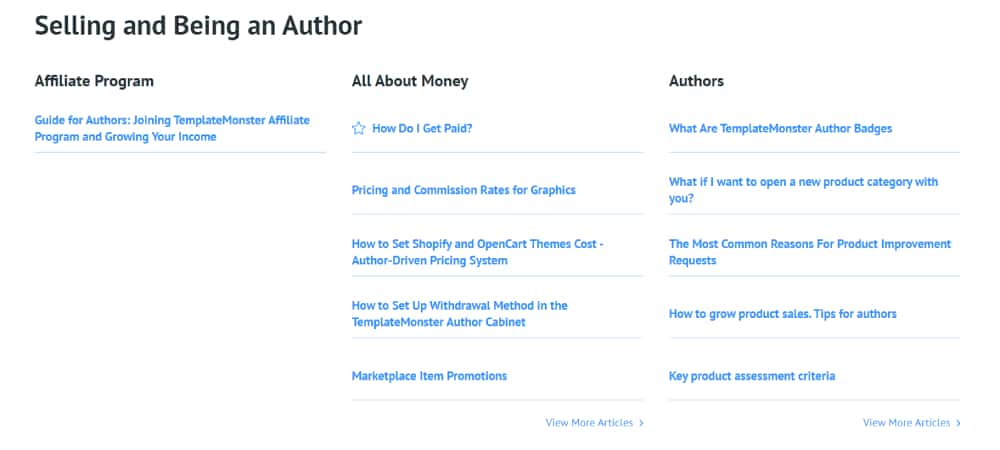 TemplateMonster Marketplace also allows getting assistance from a personal manager. You have the freedom to ask him or her all the author-related questions. The team will always be here to explain to you how to submit the desired digital items, promote them, and increase your earnings.
Except for the manager, you can join the author community. Here, you can socialize with other authors and discuss all the matters you have an interest in.
Finally, we need to mention that a review team is going to check your products as quickly as possible. If something is wrong, you will know what aspects require some improvement. It allows growing your skills and producing such digital products that will appeal to the audience.
What Products Can You Sell on the TemplateMonster Marketplace?
TemplateMonster Marketplace accepts various digital product types. You can always visit the resource itself to get familiar with the whole assortment. However, if you see that your item is brand-new for the marketplace, do not be afraid to send a request. Now, we want you to get familiar with the most popular categories presented in this inventory.
To start with, you can submit templates for different platforms. These include WordPress, WooCommerce, Joomla, Drupal, Magento, OpenCart, and PrestaShop. It is also possible to share HTML and admin templates. All of these products get the highest notice and popularity. They will bring you the desired traffic and the number of sales. 
By the way, we need to recall MotoCMS when it comes to website-building. It is a visual and drag-and-drop builder that will not burden you with a code learning. You are free to make all the changes with basic programming knowledge. It does not have any customization limits and provides a large number of integrations.
Do not forget about plugins. These days, the marketplace is ready to feature such variants as WordPress plugins, PrestaShop modules, Magento extensions, and JavaScript elements.
TemplateMonster also has an interest in selling different graphics. First of all, you can share your presentation templates for PowerPoint, Keynote, and Google Slides. Furthermore, you can submit logo designs, fonts, CV and certificate templates, illustrations, and many others.
Stock videos and audios can also bring you a great passive income.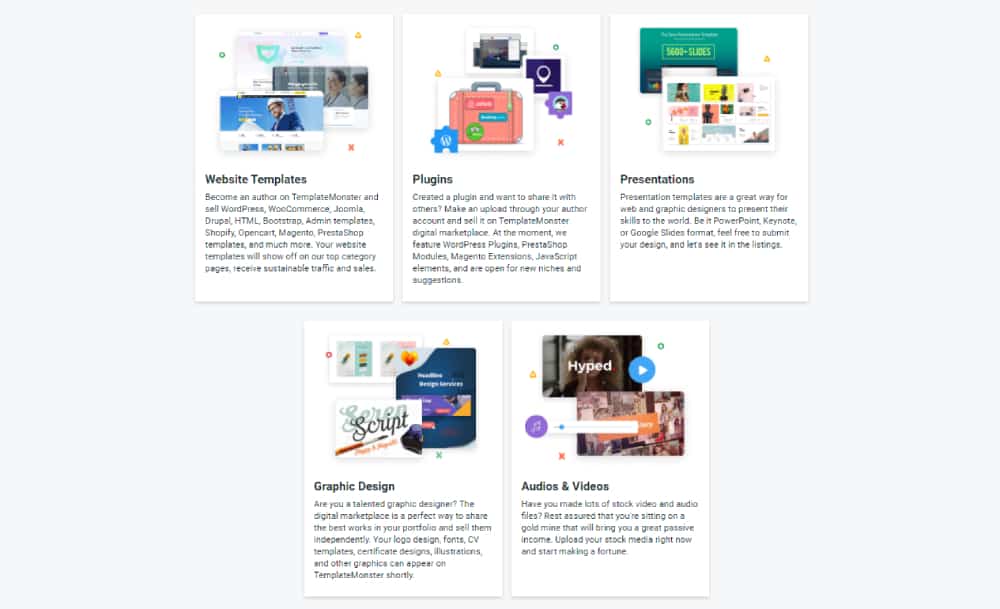 Commission, Promo, and Other Advantages to Know
Before you decide whether you want to sell your work here, there are more details to discuss.
Exclusive products make sure you are going to get the highest commission. However, when it comes to graphics, it does not matter whether you sell exclusive or non-exclusive items. For both of these types, you will get a 65% commission for each sale. Some exclusive items can bring you a 70% commission from the beginning.
Shopify and OpenCart contributors will be gladdened with the author-driven pricing policy. They have a chance to set any price for their products, which starts from $29.
Boosting your earnings will be effortless if you decide to add your items to the ONE Subscription. All you need to do is to fill in the application, follow the guidelines, and wait for the approval.
We also need to speak about the opportunity of being both an author and an affiliate. In this case, one gets two commission types. These include a 65% commission as an author and a 30% commission as an affiliate. In general, it will be a 95% cut.
It is possible to take advantage of additional promotional methods. Top-authors can be featured on the blog, social media, and partner blogs.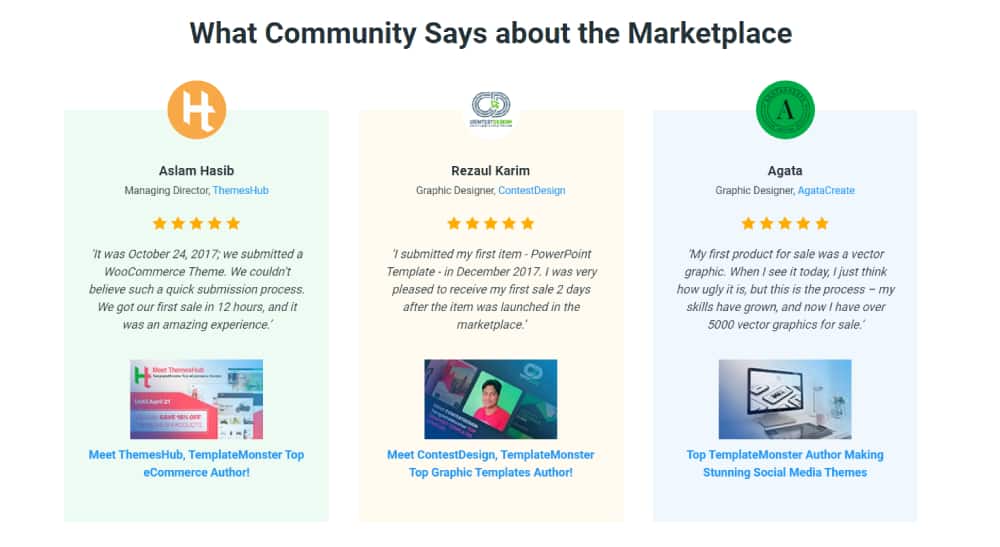 How to Become an Author on the TemplateMonster Marketplace?
1.Create your user account on TemplateMonster.com and verify it.
2. Scroll the page and find the "Become an Author" Tab.
3. Choose the name that will appear on your Author's Page.
4. Start uploading your digital items. Choose the necessary product archive and fill the details out. Wait for the team to review it. A review is going to be manual.
5. If your product meets the requirements, you will see its page in the marketplace.
A Few Words in Conclusion
It seems to us that you might have already decided whether TemplateMonster Marketplace is your perfect match. It takes nothing to become an author and start submitting your work. You are going to benefit from a high number of aspects. These include a commission rate, promotional opportunities, personal manager, community and guide help, and many others. A transparent payout system should also draw your attention. As you could understand from the community reviews, they are glad to be a part of this marketplace. Get ready to receive your recognition and grow your income together with this marketplace. Thanks for reading!
https://www.wpfreeware.com/new/wp-content/uploads/2020/09/3.jpg
600
1200
TemplateMonster
https://wpfreeware.com/new/wp-content/uploads/2017/07/cropped-wpfreeware.png
TemplateMonster
2020-09-19 20:02:03
2021-01-11 14:41:45
TemplateMonster Marketplace: What to Know Before Joining Its Community of Authors?