In modern days presentation made with PowerPoint is a really valuable and effective thing. It allows you to create attractive visual content to support your speech. Moreover, you can insert some diagrams and schedules to make presentation easy-to-understand for your audience. In the same way, you can play with structure and make presentation informative.
After all, it is the main purpose of any presentation – to be informative and support your speech. At least, I believe so.
Types of presentations
Financial reports, business plans, education courses, technical projects and so on. Each of them needs its design style to suit the theme and purpose of creation. Diagrams may be redundant in primary school, meanwhile, colorful design with cartoons can ruin your business presentation.
I also did such mistakes while developing a PowerPoint presentation. My presentations still were not that good due to many small things. And it took time until I found out how to make them better. It came to my mind, that I can make a post and share with you some PowerPoint design ideas that can improve your presentation.
Especially I can share my experience and support them with examples. You may think that my ideas are basic, but they still are valuable and it is wise to follow them.
A list of the Most Important PowerPoint Design Ideas
1. Use PowerPoint Templates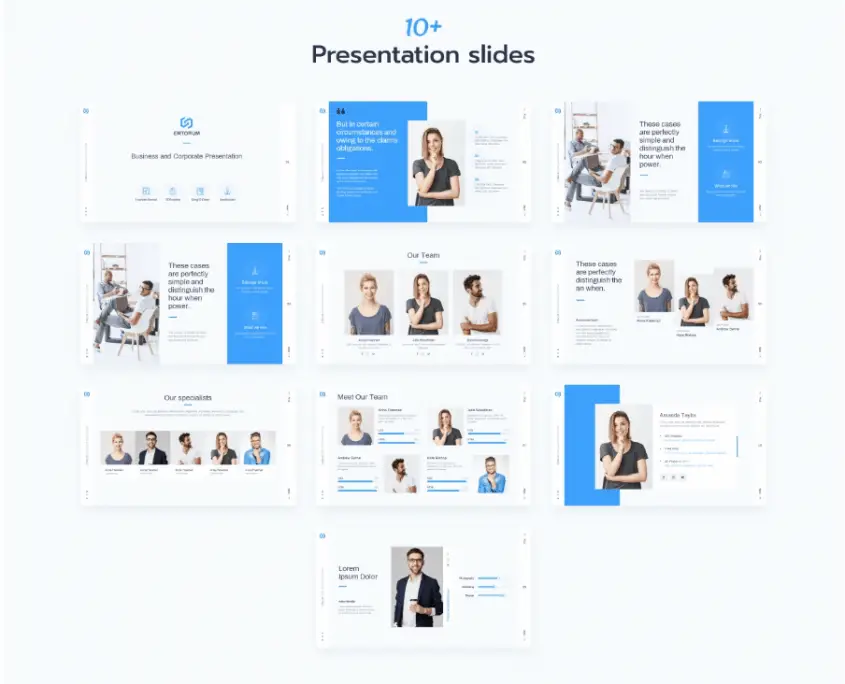 Details
It takes a lot of time to develop a good PowerPoint presentation. Besides, it will be nice if you have designer skills and some inspiration. PowerPoint presentation templates can solve this problem. In most cases, they are professionally developed and unique. And you can change them as you wish. It really can save your time and, in most cases, they cost a fair price. But if you want to develop your own and unique PowerPoint product, then you can check these templates to find new PowerPoint design ideas and solutions. Like a creative color scheme here.
2. Design Elements Have to Highlight Information
Details
For some newbies, it looks like a great idea to fill a presentation with as much as possible visuals, graphics, and diagrams. And sometimes the presentation theme or audience requires such an attitude. But even if you have a lot of design elements there must be a few clean parts. Do not fill your slides with redundant elements. If you have to show many visuals, then simply create more slides. Or compile elements in the most compact way. This template will be a great example of a compact insert of elements.
3. Know Your Audience
For example, if you need something for a financial report or business plan then it will be wise to use something corporative and strict. Like this example. Your audience is the main reason why you create a presentation and this is why your presentation design must come up to audiences' expectations. I doubt that your financial director will appreciate colorful presentations with cartoons instead of numbers. But if you work in Pixar than it is cool.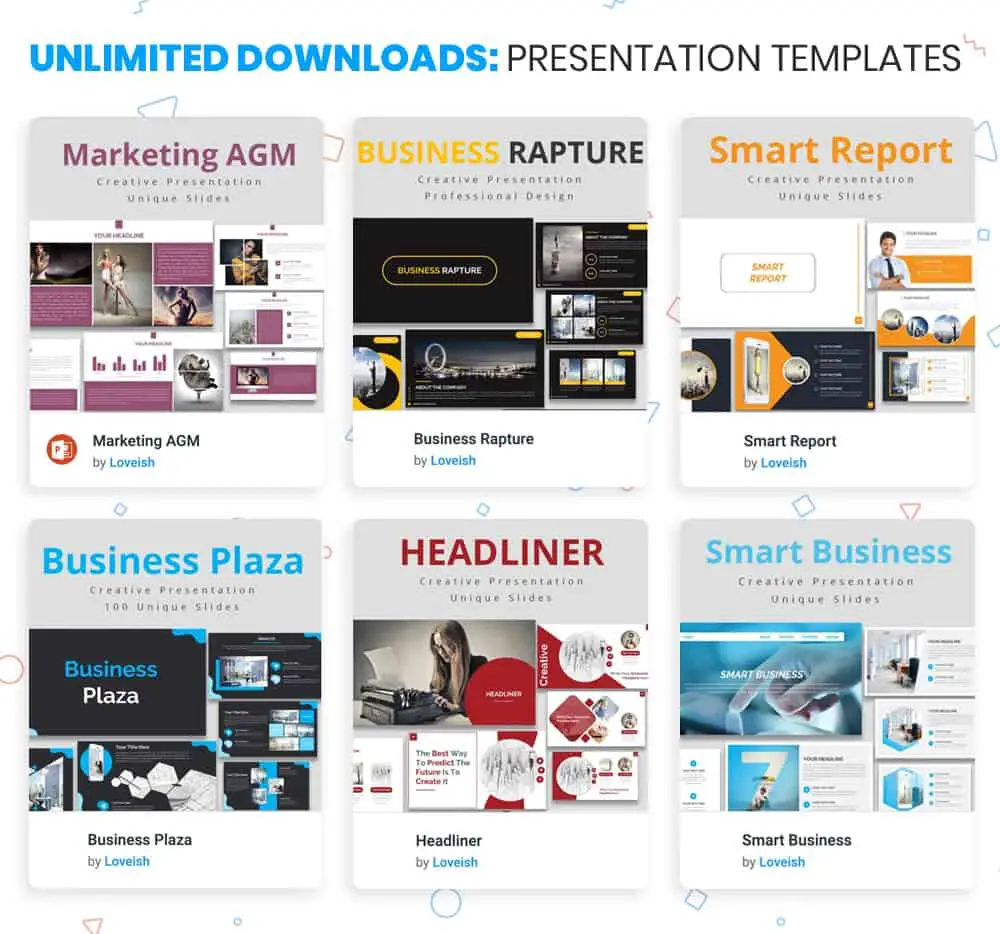 Unlimited access to 3500+ Powerpoint, Keynote, Google Slides templates.
Download Presentation Templates 
4. Sometimes it is Good to be Modest
As I mentioned previously it is a bad idea to fill your presentation with redundant elements. And you should consider is it really necessary to include them. For example, in my first presentations, I included a lot of text. At that time I thought it is a great idea. But it looked like subtitles for my speech and did not affect the audience. Moreover, since I knew the topic I wasn't using them either. At that point, I could decorate my presentation with the minimalistic approach, add less text and few images.
5. Bright and Eye-catchy
The presentation as any visual product has to impress your audience to get more attention. And sometimes bright PowerPoint presentation allows you to highlight yourself. For example, if you check out this presentation you will find many contrast images that attract the audience. But, pay attention that not all of the included images and elements are bright. After all, eye-catchy and bright images must highlight your presentation and not to make it simply extremely bright.
6. Background is Important
For some it is obvious, but some of us do not pay attention to such elements as a background. However, a background can change a lot. Just take a look at the Edge PowerPoint product page. This product comes in white and black background styles. And you can see how the white background allows you to highlight information. And how black background makes the presentation more elegant and stylish.
7. Visualize Your Numbers
When you work with a big amount of data or numbers than you have to work on its presentation. If you put together numbers in one huge mess it will be hard for the audience to read and understand your presentation. This is why it will be a great idea to use infographics. Sometimes, especially in statistics, you can create a presentation made only with diagrams and infographics. As I told you in the second topic it all depends on your audience. If your audience wants to hear numbers – give them numbers.
8. Black and White Images
There always was some charm in black and white photos. Depending on the presentation, the may look vintage, stylish or both. And if you want to decorate your website then you may consider using such images. This tip is a great way to make your presentation more elegant. Black and white style is also more neutral than colorful images. And most importantly it is multipurpose. You can see it yourself in the Pitch Pro presentation template.
9. Even Financial Presentation can be Creative
Creativity leads us to the original view. And the eye-catchy design is always good. So even if you work with charts and diagrams filled with numbers it is still possible to make everything colorful and attractive. Just keep in mind, that you will need more than a few colors to make your diagram colorful and informative. And if you need an example you can click here.
10. The More Icons You have, the Better Presentation you Create
Icons are small design elements. But they can be a great addition to your presentation design. You can even make a combination of icons or highlight specific topics. And if you often create PowerPoint presentations than I advise you to make a collection of icons. You can find them online and there tons of them. Good presentation templates always have an icon. Some have even more than 4900 icons.
11. Calendar
I am already tired to remind every that audience hate dates. They do not like to read and memorize them. This is why I recommend you to highlight dates, and calendar icons will be in a great aid here. If you need to announce the date of the upcoming even – use calendar date. It may look like a simple idea, but it is really useful. And good presentation developers know about this idea. Like Complete Business developers.
12. Make A Collection Of Slides
This PowerPoint idea sounds like this: the more slide templates you have the better it is for you. Titles, diagrams or slides with the specific background may be useful once more. And instead of the redevelopment of a whole slide, you can simply use the pre-developed product one more time. You can gather such a collection yourself or purchase a ready-made pack.
13. Collect Specific Presentations
It is always good to have a multipurpose presentation template. But if you have an important event coming it may be wise to create a presentation specifically for this occasion. For example, a business plan. Images, graphics, related to some specific thematic are more informative and do not distract the audience from your presentation. And you can use it over and over again to match a specific theme.
14. Keep Practice
The more presentations you create the more skills you have. And that means you can make better products. Especially if you learn new PowerPoint tools. After some time you will be able to create high-quality presentations with many creative elements. Images, diagrams, schemes, backgrounds and other design elements can add more things to your presentation. As an example, you can check the Business Infographic Presentation PowerPoint template. It has a combination of corporative style, colorful design and includes a lot of infographics for data presentation.
15. 3D images
Another thing from my personal opinion is that people like 3D images. And I recommend you to use them in your presentations. Of course, if you search for 3D images online it may be a good idea to customize images according to your theme. However, do not include too many images or you can simply distract the audience to form your presentation, text or infographics. If you want to see how presentations with 3D images look like, then follow this link.
16. Use Not More Than Six Words per Every Slide
People create their presentation design to deliver some necessary pieces of information. Do not make people read your presentation because they should pay more attention to you talking. For this reason, many professionals are sure that you need to include not more than six words on the slide. It is better to engage using some eye-catching visuals, as you can see in Every.

Details | Download in ONE Membership
17. Make Sure to Match Your Design with the Chosen Topic
Without a doubt, your topic dictates the choice of the presentation design. As an example, it would be not right to speak about your business and include a romantic color scheme. It is better to work with your brand colors and focus on the serious approach. You can take a look at this Business Pack that might help you in such a task.
18. Work with Your Brand Colors and Logo
We have already started talking about brand colors. Together with them, it is effortless to distinguish your presentation from others. People can also memorize it if you decide to include your logo on every slide. It is the right decision to add your branding to stand out from the crowd. You can get familiar with 30 pre-made logos in a minimalist style to get some inspiration.
Details | Download in ONE Membership
19. Take Advantage of Outline Illustrations to Present Your Ideas
Many people are looking for methods to present some concepts. To highlight some basic ideas, you can turn to different illustrations. Sometimes they are more remarkable than ordinary stock photos that everyone has already seen. There are also many flat images perfect for simplifying the necessary concepts and catching more attention. As an example, you can take a look at 68 stationary, school, and art illustrations that might suit your needs.
20. Do Not Limit Your Imagination
If you want to be creative, you always have the freedom to do this. Do you feel that your audience wants something special from you? In this case, you can combine different styles, gradients, colors, illustrations, and other components to impress. Shift is a mix of vibrant color variations and elements crafted for those who are ready to be distinct.
21. Your First Slide Should Be the Most Attention-Grabbing One
It is crucial to raise interest in your audience from the very beginning. In such a way, it gets easier to hold their attention during the whole presentation. Work on the first slide to make it look original. As an example, it is possible to surprise people with some pieces of information. In addition to this, you can make people laugh by telling a joke and using a relevant font like Kalled.
Details | Download in ONE Membership
22. Think About Implementing Video
A large number of viewers perceive videos better than any other content type. To convey your message directly without causing some misunderstandings, you are free to add short videos. Together with them, it can be quick to present your point. For the reason that interactive elements always manage to engage the audience. It is easy to edit some managed infographic elements in After Effects to showcase numbers at their best.
23. Only High-Quality Images to Increase Engagement
As you remember, we have mentioned the importance of choosing different outline images. However, it does not mean that you cannot use some photos that you have taken by yourself. There are also various unique illustrations drawn by professionals. You can always choose something relevant to your topic. Remember that you are not obliged to limit yourself if you want to show your creativity. Explore this decoration toolkit if you think that your presentation needs some exciting components.
24. Take Advantage of Various Shapes
PowerPoint enables creating a large number of shapes. You can come up with multiple diagrams, charts, and other infographics on the base of them. You are free to choose from many traditional shapes. Yet, it is always possible to use ready-made infographics that can save you lots of time. Furthermore, they have some unique shapes (like this Tree Bundle) that your audience can find impressive.
Details | Download in ONE Membership
25. Change Layouts of Your Slides During the Presentation
Looking at multiple slides that follow the same structure is not very fun. You can try to keep the same theme during the whole presentation but modify your slides. One slide may have a horizontal orientation. The next one may have a vertical orientation. Thanks to such a thing, you are free to differentiate your ideas and topics. First Goal is an eye-catching PowerPoint template that can provide you with some ideas.
Details | Download in ONE Membership
26. Printed Materials as Your Reliable Assistant
Unfortunately, people are not able to take your presentation home. However, many of your viewers may want to have access to the most important things you have mentioned. In this case, the best way to make your presentation more professional is to print some essential materials. Keep in mind that your brochure is better to include a color scheme, icons, and other brand elements from your presentation. Creativesio is a suitable variant for creating an advertisement that suits your vision.
27. You Can Use White Fonts on Your Images
In our opinion, there is no need to speak a lot about this idea. There are many cases when you do not know what color to choose for your title presented on the image. Yet, white fonts work in an impressive number of situations and make your texts more comfortable to read. You can check out Wallington and start using it to highlight your titles.

Details | Download in ONE Membership
28. Use Icons to Stop Your Text Float on the Slide
It is not very good-looking when your text floats on the slide. When you have an appropriate icon that sticks to your text, it is easier to draw the attention. These ten flat animated icons can help you in focusing the attention on the essential points.

Details | Download in ONE Membership
29. Emphasize Key Data, Including Numbers, Percentages, and Other
Numbers, percentages, and other elements can excite your audience. To have the highest impact on people, it will be excellent to choose a different color or font for these crucial components. Dirten is a marvelous font to surprise your audience.

Details | Download in ONE Membership
30. More Than Simple Screenshots?
Screenshots of the app or website are widely-used components of the presentation. However, they do not look very visually-attractive without proper mockup. There are multi-devices mockups for showcasing your digital products in the presentation.
Details | Download in ONE Membership
Conclusion
I like PowerPoint for its customization features and tools. And I hope that a list of my PowerPoint design ideas can help you avoid my mistakes and improve your presentations. And if you have some additional ideas then leave a comment and exchange your thoughts. After all, creativity is one of the most important designer skills. And we have to learn from each other.
https://www.wpfreeware.com/new/wp-content/uploads/2019/11/95612-big.jpg
800
800
TemplateMonster
https://wpfreeware.com/new/wp-content/uploads/2017/07/cropped-wpfreeware.png
TemplateMonster
2020-02-19 05:33:00
2020-02-19 09:22:13
Need a List of PowerPoint Ideas to Improve Your Presentation?