Present day, finding the tools for effective website creation is an art in itself. Top tools and assets out there help you work smarter and achieve the desired result within a shorter period of time.
I bet that you're after such tools. However, you probably don't feel like trying and testing all the solutions available on the web to determine the best ones among them. That's why I bring you a collection of 10 best web design tools to use in 2019 to sizably rev up your workflow.  If you're looking for something more specific, like tools for logo design, there's also a large variety on the web, but if you want great and fast results, check out LogoGrupo.
If you want to get access to a wide array of graphics tools, themes and assets, it's money-wise to go for a subscription. ONE is a recent subscription service, launched this summer by one of the largest web design marketplaces, TemplateMonster.
With ONE, you get access to more than 8500 web design products in total. Within this collection, you'll find:
WordPress themes (1,050 items);
CMS themes (1,468 items);
HTML templates (1,065 items);
E-commerce themes and extensions (2,158 items);
Landing page themes (190 items);
41 Plugins.
Moreover, you'll get access to an impressive collection of 3,198 graphics tools. Among them, you'll find tons of stock imagery, infographics, vector icons, product mockups and exclusive fonts. All the tools in this collection meet the latest standards and trends of web design. To see for yourself, you can check out the collection of stock photos and patterns available.
HTML websites are fast and reliable. However, newbies won't cope with creating them on their own, as they have no knowledge to comprehend and produce HTML and CSS code. Things change if you use a visual builder.
If you want to create fantastic HTML websites and templates in visual mode, go for Novi Builder. This is the best and most comprehensive WYSIWYG builder for HTML websites. Novi lets you drag and resize blocks, save presets and use simple options to customize your site up to your vision.
Novi Builder will be a go-to solution both for newcomers (e.g. startups and entrepreneurs) and seasoned HTML-experts (e.g. developers, freelancers). Moreover, you can even use this feature-rich builder to create and later sell website templates.
You can take advantage of Novi builder for $29/year (Basic Plan). If you go for an Advanced Plan ($49/year), you'll also get access to 20+ open-source website demos. Use these ready-made demos to create client websites as many times as you need.
Even if you use such an advanced builder as Novi, creating an HTML website from scratch will still take a LOT of time. If you don't have this time, using a professional HTML theme will be a weight off your shoulders.
A ready-made HTML template takes around 80% of website creation load off your shoulders. A high-quality theme ensures that your website has a strong user interface, underpinned with a responsive grid, well-thought layouts and conversion-optimized content blocks. Moreover, a theme takes the appearance of your website up a notch with CSS styles, content animation, custom shapes, vector icons and more.
For example, check out Intense – a best-selling flagship HTML theme that lets you create any website hassle-free. Intense delivers you 500+ HTML files, 29 full-blown niche skins, 60+ reusable elements, Revolution Slider (+15 premade effects), MegaMenu, 15+ Portfolio variations and much more. This theme has been chosen by 3,000+ customers, who were able to craft unique websites thanks to Intense and high-quality documentation and support it comes with.
Landing pages help increase your conversion rates and lower your cost of acquiring a lead or sale. For your landing page to be successful, it should have a well-thought, objective-driven and conversion-optimized design. That's why going for a landing page template will save you lots of time and effort.
With a ready-made landing page theme, you just have to replace the theme's dummy text and imagery with your content. You may also want to change some colors and styles. And that's it: your professional landing page is ready.
If you're after an example of a high-quality landing page theme, check out Marketon. It will be ideal for startups, events, promotions and pre-order promos. For easy and convenient relaying/communicating your promotion to your market, use gb whatsapp download.  Most excitingly, you can edit Marketon template within the pre-built, newbie-oriented MotoCMS Builder.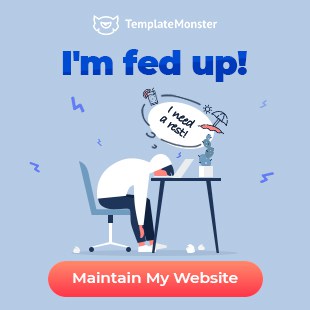 Imagine the situation when you have created an impressive website, developed an awesome marketing campaign. And at the peak of this campaign, your website suddenly goes down. Who to ask for help? Where to run to find the way out?
To avoid such occasions, it's important to cooperate with the reliable support that can maintain and manage the website. It's worth doing on an ongoing basis. Not just in cases when a serious issue with the website ruins your plans at the worst possible time.
Are you looking for anyone who can help you out? There is a perfect solution, in particular, WordPress website maintenance by TemplateMonster.
What professional assistance do you receive?
Your website will be monitored for security and malware issues

You won't have to worry about the performance of your website

The service includes basic SEO, as well as speed optimization

Your database will be error-free and efficient

The experienced professionals will take care of content change or update.
These are the examples of the services you get for just $39 a month.
There are two pricing plans to opt for with various useful options. Choose the one you like more to test the service!
#6: Fonts and Font Packs
Thanks to Google Fonts and FontSquirrel, you can make do creating your website with free fonts only. However, that won't set you apart from the crowd. To make your website more unique and appealing, do not hesitate to combine premium stylized fonts with the standard ones.
Where can you find high-quality fonts for your web projects? I suggest that you check out this collection of 500+ fonts and font packs. Priced affordably ($15 – $20), these fonts cover the needs of different industries and each of them has a unique and memorable design.
By the way, it's often the case that you need a couple of stylized fonts. In this case, you can save a penny if you go for a bundle of fonts. For instance, if you go for the popular Mega Fonts Bundle, you'll get as many as 35 premium fonts for the price of one.
#7: UI Elements
A strong website interface increases user engagement, perfects functionality and creates a strong link between you and your audience. To strengthen the UI of your website, you can use professional UI kits.
A UI Kit is a set of files delivering you plenty of components to create and modify a strong user interface. Typically, these kits contain files in PSD format and offer you different color choices, shapes, objects and custom items.
Keep in mind that UI kits are useful not only for website owners but also for developers creating dashboards, control panels and mobile apps. For example, Hippo UI is a well-designed kit for creating an application interface or online dashboard. It comes in PSD format and will please you with its well-thought layers, elements and styles.
Want to see other top UI kits on the web? Check out this link to access one of the most comprehensive collections out there.
Using icons is a great way to bring your content to the point as they put your content in a nutshell, draw attention and increase readability. For an even stronger impact on your audience, you've got to make sure that your icons are high-quality and trendy.
If I had to give you an example of a modern icon set, I would have definitely mentioned Jumbo flat icons pack. This package contains 1500 highly detailed icons that appear equally great on both small and large screens. Moreover, these icons are available in 5 formats (AI, PSD, EPS, SVG, PNG) for your convenience.
#9: Design Bundles
If you're a modern web designer, you may also benefit from using design bundles. Inside such a bundle, you may find logo templates, mockups, backgrounds, textures, pitch packs, characters, infographics and more. The bundle lets you save your time and effort creating and styling these elements.
You can find a number of top design bundles on the web. It would be a crime if I don't include some of them here.
Unicorn Clipart bundle contains graphic elements that you can use for a wide array of projects. Use unicorn clipart to set your business apart with trendy unicorn backgrounds, stickers, greeting cards, advertising designs, etc.
Next, Mandala Designs lets you differentiate your business from the competition using artful mandala designs. The bundle delivers you 800 mandala patterns in total. You can combine these graphics and modify them to make your web projects truly unique.
Last but not least, I'll show you the neat Gold Foil Textures bundle. Foil and similar textures are currently trending and will definitely make your projects more appealing to the audience.
#10: Sketch Templates
If you prefer working with Sketch vector graphic editor, you can work faster with ready-made Sketch templates. These templates allow you to use and modify the professional ready-made designs for iOS and Android apps, website interfaces, etc.
Any examples? Hi Creative Sketch template contains a trendy and minimalist startup, studio or agency website design. Edit this well-layered template with Sketch to create the UI that best meets the specifics of your project.
With Taxi Driver Booking UI Kit Sketch template, it's super-easy to design a stylish interface for a modern taxi app. The template includes 32+ ready-made app screens for iOS to effectively speed up your workflow.
Are you working on a video project? Then, you can use professional premade designs to make your videos more powerful and memorable. Let's see a couple of top video template examples:
Lyric Tyles is a fresh After Effects intro template. With its help, you can impress your audience with bright and clean animated titles and transitions in your video.
Flash FX Titles is another template containing a number of professional title designs. Thanks to a comprehensive custom controller on board, it's simple to change the color, text and duration of each title within this template.
Wrapping Up
Congrats! Now you know some of the most well-liked and progressive best web design tools 2019. We hope they help you speed up your workflow and reach new web design heights!
Please share your thoughts in the Comments. I'd love to hear what you think!
Take care!
https://www.wpfreeware.com/new/wp-content/uploads/2019/07/webdesigntools.png
485
1270
TemplateMonster
https://wpfreeware.com/new/wp-content/uploads/2017/07/cropped-wpfreeware.png
TemplateMonster
2019-07-16 13:22:16
2021-11-30 10:13:01
Starter Web Designer Kit: Top Tools and Assets You May Need