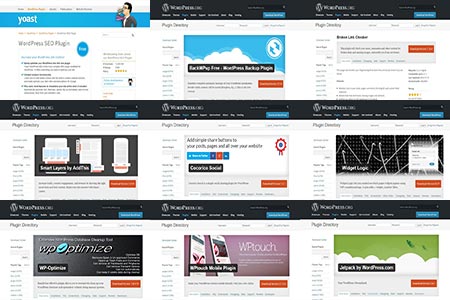 In the recent years, CMS software like WordPress has expanded a lot. It's simple, since its creation in 2003, 66 million websites have sprung up around the world and it's not any near about to stop.
However, with the constant improvement of these best webinar platforms, the situation has changed for companies, when they are creating blog, they often find themselves buried under the multiple options offered by WordPress, and the sheer volume of extensions that are called plugins.
I have myself been there a few months ago when I was creating my website, and it took me some time to familiarize myself with all the plugins before I create my WordPress plugin library. I'll go over 15 essential wordrpess plugins that I think are must have installed plugins for start any blog. They are both dedicated to the user experience, site optimization, sharing on social networks, tracking and finally the safety of it.
JetPack Plugin – Have a readable and enjoyable blog
Making a good impression on a first visit is paramount. Because beyond the quality of your articles, it is also the look and feel of your blot that compliments your content, so the styling of your blog is an important factor too. The solution is called Jetpack. This plugin will allow you to customize your platform, organize menus, widgets on the sidebars, create contact forms, implement CTA buttons. In summary, Jetpack takes care to provide you help for a good user experience. Even better, you can add your personal touch to your site through this plugin although do it wisely and do not abuse the options of this tool. Successful blogging is also synonymous with simplicity.
---
Yoast plugin – Promote your website through the Yoast plugin
If there is no reference in the field of website optimization, it is to do with Yoast confidence. The founder of Yoast and a specialist in site optimization, helps thousands of bloggers using WordPress with this SEO Plugin. And believe me, you must install it for the good of your business. Not only that service is complete, but it will help you better understand the logic of Google and apprehend his other tools like Google Adwords regarding tags. Concretely and to present to you, this plugin identifies your h1 and h2 tags in your articles, ALT and description in your pictures, or the keyword usage and their density. The system is intuitive and if you follow the various rules imposed by this tool, all lights will be green and you will be equipped to draw more traffic to your blog.
---
Smart Layers Plugin – Communicate to win an audience
To be on networks like Facebook, Twitter or Google Plus it is not an easy task for your first blog. Sharing is complicated and you still have to once again publish quality content no matter what.
However, to promote sharing, you can arm yourself with a plugin called Smart Layers, produced by Add This. With this extension, social networks have no secrets, since you can place sharing buttons on your articles and pages, install a sidebar to continually remind your readers that they may share your blog. Even better, you can even have thumbnails that appear to recommend articles to your audience.
The plugin is very easy to use and the good part is that it is not intrusive but incentive. In two clicks, your readers can either share or like, or read more of your articles.
---
Google Analytics Yoast – Find your statistics to adjust your strategy
For blogs, most of the time the result is measured by the number of views, sessions or sales. But it is impossible to know unless you install a plugin directly and our our friend Yoast has yet produced: Google Analytics by Yoast.
Among the many features of this plugin, you can:
Track your live sessions
Know the audience through time and over time
Identify the sources of your traffic, and the media (mobile / tablet / computer)
Targeting your audience knowing their demographic origin, sex, age, etc…
Establish the most followed pages and articles
Know the destination of clicks of your readers and the bounce rate
You must first have a Google Analytics account before installing it directly on WordPress.
---
Akismet Plugin – Be safe with the plugin Akismet
Many bloggers have found themselves in trouble because of unwanted spam or bad people who have produced undesirable content.The most popular plug-in for anti-spam is Akismet and you will prevent these kinds of comments that detract your user experience.
Everything is automated and supported by the extension that will filter your comments. Install it as soon as create your website. Prevention is better than cure.
With these extensions, you should have a good start on WordPress and then create a content strategy for your blog. However, my list is not exhaustive and other plugins deserve, here are some additional plugins to help you make amazing blog.
---
Login Lockdown
Whether you publish alone on your blog or you have contributors, there will always be someone to try to connect to the administration part of your site. WordPress does not limit login attempts by default. This gives the opportunity to potential hackers to try to access the core of your blog.
With Login Lockdown plugin, you can set a maximum number of attempts to connect. For example, after 3 failures, the person will be banned for 30 minutes (or more).
---
Social Cocorico
If there is another signal that the search engines (and Google in particular) take into account to position content is the popularity of your content in the social networks.
This plugin will allow you to place sharing buttons for the most important social networks on various places in your blog also you could add sharing counter if you like.
---
WP Optimize
The speed of your blog and website is something essential for its performance. Do you know that it is possible to improve the speed of your site by reducing its database? By default WordPress automatically backup your articles so in case of any problems you can restore it.
The trouble is that in the long term, it clutters the database. Fortunately the plugin WP Optimize is to remove these unnecessary revisions (that's how we call these automatic backups). This plugin will also allow you to optimize other aspects of your database to improve your blog performance.
---
Google XML Sitemaps
The Google XML Sitemaps plugin is directed by Arne Brachhold aimed to create a XML file type for Google. This file will have to help Google to crawl, walk, your site and indexing it as it says in the plugin description.
---
Broken Link Checker
Whether for your visitors or for the robots of search engines, error pages (404) are very unpleasant. Remember, these error pages are pages that do not exist. Most of the times the visitor is forced to get back at your home page, but overall it will increase the chance that he will leave your website because he didn't find what he was looking for.
It is therefore important to find out if your site has error pages to correct them. This is where the Broken Link Checker plugin come handy. It is a kind of error page bounty hunter if you want 🙂
---
BackWPup
If there is one thing you need to do on your blog is to back it up regularly. If there is a piracy problem in your host or else you'll be delighted to have a backup, trust me. A good option is to set daily backups but of course you can adjust it based on your website needs.
Also make sure to connect a storage service (like Dropbox) to make your backups are always accessible in case of failure of your host. You can never be too careful…
---
Contact Form 7
More WordPress Themes, choose not to include a contact form. The contact form is a feature, its place is in a plugin. Each topic should not reinvent the wheel when plugins are doing it very well.
The best solution is in my opinion the plugin Contact Form 7. It defines the fields of our choice (text fields, email, drop down menus, check boxes, etc.) and customize the email sent with the data entered by the user. You can also enhance this plugin using additional modules.
---
WPTouch
If you want to make other blogs envy you with an amazing mobile experience? WpTouch is for you. It will transform your blog into a delightful experience for your mobile visitors.
---
Redirection
Let's be clear, WordPress handles default item redirection when they have changed names and categories. But here, WordPress does not manage all scenarios. In addition to offering a powerful redirection system, Redirection will handle keep updated a 404 error log.
---
Widget Logic
Need to bring up a widget based on some logic and not in the same way everywhere else? Widget Logic offers to pop up a widget based on certain conditions driven by logic actions.
---
Conclusion: Let us know which ones do you use every day and would like to share with our community by commenting below? This post is contributed by Albert Palacci who is writing on several blogs about Digital Marketing.
https://www.wpfreeware.com/new/wp-content/uploads/2015/04/featured-Essential-Wordpress-Plugins.jpg
300
450
Hazel H
https://wpfreeware.com/new/wp-content/uploads/2017/07/cropped-wpfreeware.png
Hazel H
2015-04-10 11:47:05
2021-11-30 09:24:20
15 Pro-Picked Essential Wordpress Plugins For Newly Blogs