In this day and age, with more than a dozen content management systems available, why WordPress is still the best choice for SEO?
WordPress has been around for a while. As a result, today:
WordPress powers over 35% of all websites on the Internet
among all sites built with CMS, 60% of them were made with WordPress
over 600 WordPress websites are created daily
Among the reasons why both individual creators and business owners trust WordPress with creating the website is its SEO-friendliness.
As companies keep competing for brand visibility and brand recognition, SEO now plays a crucial role in ranking your company's website. And, it's essential to build your website with a content management system that offers all the tools to make your website SEO-friendly.
In this regard, WordPress is the best CMS choice.
Here's why.
1. Mobile Optimization Is a Priority
Today, you can't ignore the fact that more than half of your traffic will come from mobile devices.
In fact, in 2019, only 45% of all traffic came from the desktop, while 52% came from smartphones and tablets. Apart from that, people are using Google from their mobile devices more often, as the number of mobile queries has grown by more than 200% over the past two years.
Thus, mobile optimization should be a priority when choosing a CMS platform to create your website.
Why is WordPress a champion of mobile optimization?
You can check out the mobile version of your website whenever you make changes to it.
Also, WordPress offers you a preview of what your website will look like just after you've finished your registration: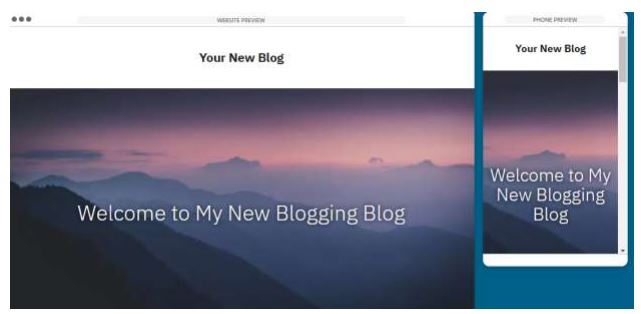 WordPress allows you to control website load time, which matters a lot for mobile optimization.
Mobile search results depend a lot on how fast your website loads. If it takes too long, you might lose mobile traffic, which may be catastrophic for your website's performance.
On WordPress, you can easily control website speed, which should be between 2-4 seconds on average. You also get a report on which elements of your website might slow it down.
On WordPress, you get quick access to Accelerated Mobile Pages.
A free AMP plugin on WordPress is the fastest way to optimize your website, make it load faster, and easier to browse.
As Google prioritizes websites with mobile-friendly experience, WordPress provides you with everything you need to end up at the top of Google search results.
2. You're in Control of the On-Page SEO
To win at SEO game, it is important for you as a website owner to be in control of on-page SEO. With WordPress, you can start working on on-page SEO right after you finish the registration process.
Right at the start, you get to choose a domain name for your website. On WordPress, you can choose between many domain name extensions:
How does your choice of the domain name affect SEO?
Your domain name represents your brand. But it doesn't only matter for your customers. When ranking your website, Google analyzes your domain name and whether it correlates with the content on your website.
So, WordPress allows you to pick an optimal domain name for your website right after you register it. The length of your domain name doesn't matter, while the choice of the domain name extension can affect your SEO results.
What are other on-page SEO elements that you can control with WordPress?
Metadata editor. Metadata plays an important role in search engine optimization.  WordPress editor allows users to edit snippets of the page to make them more SEO-friendly.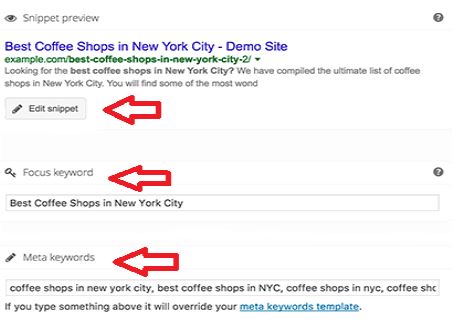 Optimized permalinks. In WordPress, you're completely in control of creating "pretty permalinks" – page links that you can customize and put keywords in them to improve search results.

Image optimization. Besides adding images and editing them, WordPress allows you to add ALT tags, image descriptions, and edit the format of the image to make it faster to load.

Apart from that, in WordPress editor, you can optimize your pages by using tags, headings, and structure your text to make it more SEO-friendly.
3. Your Website is Secure
First, let's clarify – no website is 100% secure.
It means that, no matter which CMS you choose or how you build your website, there is always a chance that your website will get hacked.
However, as the research by Kinsta shows, WordPress websites usually get hacked because of reasons that can totally be prevented.
According to Kinsta:
of all hacked WordPress websites, 39.3% were operating an outdated WordPress core software
60% of website owners on WordPress claim that they were hacked through outdated plugins or themes
around 16% of websites on WordPress were hacked because of compromised login credentials
What is WordPress doing to prevent hacker attacks from happening?
Regular updates. The owners of websites built with WordPress frequently receive messages about software updates with enhanced website security features.
Plugin audit. WordPress offers its users a variety of tools to audit plugins they use and delete outdated or compromised plugins.
Google has a very strict policy when it comes to website security, which is why you will not find websites of suspicious quality on the first page of search results (of course, if you're not looking for them deliberately). But while WordPress provides you with all the tools to secure your website, a lot depends on how well you manage your website security yourself.
4. Access to a Variety of SEO-Friendly Themes
We already briefly mentioned WordPress themes above.
WordPress has a variety of both free and paid themes for every purpose, from corporate business websites to freelance portfolios.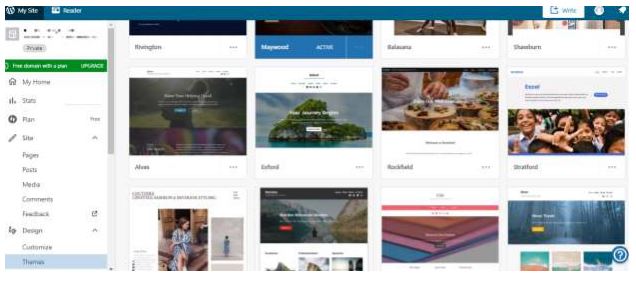 How do website themes impact SEO?
The importance of user experience. Google prefers structured and optimized website themes that make website content readable and website scannable.
Page load time. A theme with too many elements will affect page load time, which negatively impacts SEO results.
Impact on on-page SEO. The choice of the website theme has a considerable impact on URL structure, as well as metadata and content structure.
Thus, the choice of WordPress theme will depend on a variety of factors, including:
The visual structure of the theme. Choose one that doesn't have too many elements and doesn't look cluttered. This may affect the user interface and user experience.
Browser compatibility. Run the theme in a test mode to see if it's compatible with all the browsers and works well from both desktop and mobile devices.
Theme design. This factor shouldn't have a negative impact on the readability of your content. Make sure that the theme contains colors and readable fonts (Open Sans, Arvo, etc.) that make the content on your website easy to perceive.
By now, all themes that users can access to WordPress directly are optimized. Through WordPress, you can purchase or download for free any theme that fits your website's profile and check the theme's characteristics in terms of search engine optimization.
Over to You
We won't argue with the fact that there are many good CMS platforms out there.
However, WordPress is the best open-source platform that offers more flexibility and customization options.
WordPress allows you to create websites with SEO in mind, keeping search engine optimization the main priority. This, and other reasons that we mentioned today, is what makes almost 40% of website owners trust WordPress.
Author Bio
Elisa Abbott is a professional writer and editor at PickWriters. For several years, she also has been a confident WordPress user, running her personal blog, and helping others create professional-looking websites with WordPress.
https://www.wpfreeware.com/new/wp-content/uploads/2019/11/86719-big.jpg
800
800
Hazel H
https://wpfreeware.com/new/wp-content/uploads/2017/07/cropped-wpfreeware.png
Hazel H
2020-03-03 07:02:38
2020-12-14 10:55:26
Why WordPress is the Best CMS for SEO?