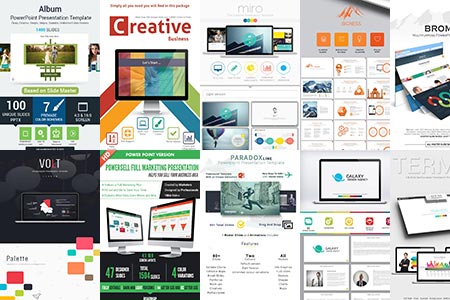 Looking for cool and animated PowerPoint templates? Here's a rundown of the best quality free and premium PowerPoint presentation templates. These templates can be used either for business, corporate, creative agencies, graphic designers, portfolios, educational presentations and any other projects that may require professionalism in arranging, sharing and presenting facts or figures.
PowerPoint presentations are an important part of succeeding in the business, corporate and educational worlds. Put simply, if you can't present your products or ideas in an attractive, interactive, and professional manner, then you may end up losing numerous opportunities.
So it's important to always create professional and  creative PowerPoint presentation that you can use to showcase your business details, portfolios or even products.  The good news is that authoring a professional PowerPoint presentation template template is not so difficult nowadays.
In fact, you don't even need to spend money hiring an expert to do it for you. Thanks to the revolutionary nature of modern technology, all you need to do is visit some popular marketplaces around the web from where you can search for different presentation templates. Some of these are available at absolutely no cost – meaning you don't have to pay a single dime to use them.
If, however, you're looking for a competitive edge in your line of business and wouldn't like to leave anything to chance at any given time, it'd be a good idea to invest in a premium PowerPoint template. Generally, such templates come with additional perks which allow you to showcase your brand in a better manner and stand a better chance of convincing more prospective clients, investors or even your lecturers to believe in you and your business.
The good thing with premium PowerPoint presentation templates is that they don't cost much. In fact, you can grab yourself one from as little as $15 – $25 bucks. In return, you'll enjoy unlimited access to thousands of slides, vector icons, fully editable components, beautiful topography, multiple color schemes, handmade infographics, and so forth.
There's no doubt that one can do quite a lot especially with a premium template. Below is a run-down of free as well as some reasonably priced premium templates. We hope you find this compilation helpful – if that happens, please don't hesitate to share this helpful post with your friends and social media as well.
---
Free Powerpoint Templates
---
Subtle Waves – Free PowerPoint Business Template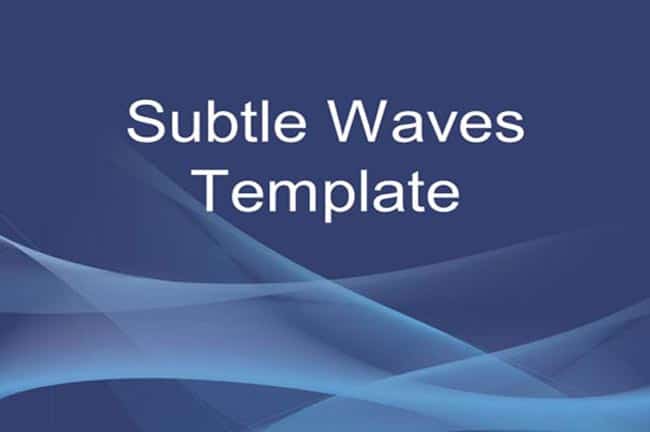 ---
Filmstrip – Free PowerPoint countdown Presentation Template
---
Pencil – PowerPoint Presentation Free Template
---
Rainbow – Free Background Image Presentation Template
---
Man Has – Back PPT Show Free Template
---
Abstact – Free Triangle-PPT Show Powerpoint Template
---
Easter – Powerpoint Free Eggs Religion Template
---
Green leaf – Free Abastract Show Powerpoint Template
---
eBooks – Online Books Free Presentation Template
---
Hosting – PowerPoint Free Web Hosting Company Presentation Template
---
Premium Powerpoint Templates
---
Easy
With 124 unique slides and a total of 2480 slides, it is clear why people tend to gravitate toward this PowerPoint template. It comes packed with 55 themes and 10 premade color options alongside 3000 customizable vector icons to choose from. As if that's not enough, its multipurpose design makes it perfect for tons of presentation types. What's more? The template comes with great animations, handmade infographics, comparison layouts, tables, and editable content to help you deliver dynamic presentations.
---
Investor Pitch Deck
Cleverly designed for all kinds of business presentations, this PowerPoint template can help you impress and win over your investors in a jiffy. It features more than 67, 000 slides each with infographic options like flowcharts, maps, and diagrams to help you capture the attention of your audience with ease. On top of that, it is equipped with a drag-and-drop functionality, editable charts, 28 pre-made color choices and over 3500 vector icons. Best of all, all its elements are fully customizable to fit your brand's needs. Similarly, the template boasts fast and friendly customer support.
---
Butu
Butu is a clean and creative PowerPoint template that is packed with awesome animations and customizable layouts. The template is available in two versions to choose from including light and dark that are easy to work with. In addition to this, it features 100 unique and ready to use slides that are fully customizable. Therefore, there is no need for Photoshop or additional applications for editing the graphics. Additionally, it includes free fonts, creative charts, maps, diagrams, infographics, table section and much more. As such, it can be used for company profiles, finance presentations, data updates, social media or other business use.
---
Azure
As the name suggests, this template is best suited for mobile app startups. Packed with 37 modern and creative slides with clean designs, Azure allows you to build a beautiful presentation with so much ease. But probably the best thing about this PowerPoint template is the fact that you can edit texts, colors and photos with just a single click to match your specific needs. Similarly, it comes with ready to use and intuitive features such as iPhone mockup, charts, project timeline, sitemap and diagrams.
---
Marketing Strategy
Featuring more than 1,000 built-in vector icons and 25,000 custom-animated slides with professional designs, this is one of the most feature-rich and versatile template in this list. What's more? There are over 20 pattern backgrounds as well as 16 modern and attractive color options, from dark to light. This makes it easy to create a persuasive and convincing presentation. Besides, the template is retina and ultra-full HD ready and comes with editable graphs and content. Lastly, Marketing Strategy is available in various versions including for Keynote 5, Keynote 6, with effects and without effects.
---
Accent
Weight loss is such a competitive niche and, therefore, if you're looking to gain a competitive edge in your business, this template would offer you a much-needed springboard. You can use this template to install useful details ranging from fat stackers to weight loss support diet and even infographics. The animated presentation template comes loaded offering PSD, PPT and PPTX file support. To top it up, this product is offered by a vendor with a high support quality index and a fantastic user's rating.
---
Profitable
Profitable is another best-selling PowerPoint template featuring full HD and unlimited colors to help you present your business or ideas in a stylish and modern way. It packs tons of outline icons, product mockups, PPT files, editable maps and PPTX files to help you meet your presentation goals. Also included with easy to edit and fully animated template are 55 unique slides and over 2000 possible slides. Therefore, you really don't need to invest in tools like Photoshop in order to customize the slide designs.
---
Reliance
As the name implies, this PowerPoint template is ideal if you work in a construction company. It features a clean and minimal style with a strong set of design template so you can create a convincing presentation. Besides, the template is also available for both Keynote and PowerPoint. In addition to this, it comes with some amazing animations that are editable making it highly versatile.
---
Horizon
If you are in the transportation industry and looking for a professionally designed PowerPoint template, Horizon is going to provide you with everything you might need for your presentation. It features embedded background photos and images alongside multiple text slide layouts so you can captivate your audience. Similarly, it is made with Slide Master which makes customization easy.
---
Ivory – Fully Editable Minimal Powerpoint Template
Although Ivory is classed as a minimalist PowerPoint template, it comes packed with enough features to deliver an amazing presentation. In fact, with just one click, you can edit your slides to add a personal touch thanks to its fully editable functionality. On top of that, you get 8 powerful, clean slides and 5 different fonts making it perfect for multi-purpose business presentations as well as personal use. As if that's not enough, the template boasts built-in Adobe Photoshop to help you edit the graphics for stunning looks.
---
Motagua PowerPoint Template – Multipurpose
If you're looking for a template that provides you with a boundless platform to exercise your creativity the Motagua PPT template might just be the real deal for you. It comes with a whopping 40,000 total slides, 600 of which are categorized as unique and fresh slides. On top of that, this drag-and-drop template offers 60 color themes with light and dark versions included on the menu as well. So whether you want to prepare sales reports, social media analyses, iPhone mockups or map data, this well-thought-out theme has got all your needs covered.
---
Smart Agency – Elegant and Multipurpose PowerPoint Presentation Template
Smart Agency is an elegant template that will enchant your audience with its minimalist and modern design.  The template is a steal considering it comes with 58 unique slides and a total of 1624 slides to choose from. Beyond its innovative presentation slides, the template features 18 vector icons, infographics, and 6 color schemes including purple, yellow, red, orange, retrospect and green. But probably the best about the theme is the fact that it is easy to modify charts, shapes, colors and texts. As such, it is perfect for business and corporate use.
---
Available – Powerful Animated PowerPoint Template
Combining a fantastic layout with an easy-to-use design, Available is one of the most reliable PowerPoint presentation template today. Presented with a total of 800 slides and 20 files, this provides you with the flexibility you may need to put your creative juice to good use. And to make sure you have all the power to match your presentation with your corporate colors, this package comes with a 5 scheme color. That's without mentioning the fact that Available comes with 42 light and dark version layouts, section break slides and a full HD, retina-ready design.
---
Exposure – Powerpoint Photography Studio Presentation Template
Crafty designed to optimize on the quality of graphic presentations, this template makes it super easy to upload images and videos into your presentations. In other words, this is the no nonsense template to go for especially if you're looking to use lots of photos and videos to showcase your story. There are 50 different slides to choose from and ultimately, you can always choose between light and dark color themes. To top it all up, the package comes with a bunch of free fonts and an incredible resolution of 1920×1080.
---
Mitra – Your Perfect Partner for Business Presentation
The feature-packed PowerPoint presentation platform wows many, not just for its well-thought-out combination of tools  but also for the fact that every element of it is fully customizable. Indeed, each element of this software is vector-based meaning you can zoom-in and out, edit the colors, play around with the backgrounds and so forth. Best of all there are over 200 multipurpose slides to choose from, 30+ color schemes and a long list of flowcharts that you can use to breakdown complex data for your upcoming presentation.
---
Apolo -Powerpoint Multiple Business presentation Template
Creating award-winning presentations and leaving lasting impressions calls for more than just the use of basic PowerPoint presentation skills. The Apolo theme provides you with 100 slides each one of them boasting full clean animation. All content is editable and you can always resort to creating live charts using Ms Excel so you can update the graphs and presentations on the go. In a nutshell, this is a versatile template that you can bank on to create mockups, thematic content, infographics and so forth.
---
Mina PowerPoint Template
The Mina PowerPoint template is one of those go-to templates for professional business presentations. Loaded with 80+ unique custom slides and a full HD aspect ratio of 16:9, the template provides you with unlimited freedom come up with super cool slides. With over 400 Font icons included and the ability to customize everything however you want, there's no doubt that this is one of the friendliest template choices in town. This is a must-have for data presentations (bar, line, pie), infographics and device mockups.
---
Business Plus – Presentation Template for Business
The secret to acing your presentation lies in using templates that are not only clean and creative but also scalable. That's exactly what Business Plus is all about. Clearly, its designed did a good job in ensuring the end product was easy visually appealing – add that to the fact that this template comes with 105 unique slides, 7 premade color schemes and unique animations and you have a powerful package you can never afford to let go.
---
Pitch Deck Fly – Creative Professional Powerpoint Slide Template
The Pitch Deck Fly template seems to have it all – from vector icons to 6400 slides total and 80 unique PPTX slides. To make the deal even sweeter, each element of this template is fully editable. Add that to the fact that it offers 20 themes and 10 color schemes and you have what easily qualifies as a rare jewel of PowerPoint presentation.
---
Metro City – PowerPoint Presentation for Professional and Creative Business
As its name suggests, Basic is a simple, clean and HQ PowerPoint template. A closer look at its package reveals that it offers 120+ creative slides in generous 1920×1080 pixel dimensions and 16:9 screen regulation. On top of that, Basic stands out as a fantastic bet for image presentations all thanks to its retina-ready display, crisp background and PPD/PPTX support. It's also important to mention the fact that this theme is available in both light and dark versions and that there are free font and icon options included on board.
---
Basic – Powerpoint Creative and Colorful Presentation Template
As its name suggests, Basic is a simple, clean and HQ PowerPoint template. A closer look at its package reveals that it offers 120+ creative slides in generous 1920×1080 pixel dimensions and 16:9 screen regulation. On top of that, Basic stands out as a fantastic bet for image presentations all thanks to its retina-ready display, crisp background and PPD/PPTX support. It's also important to mention the fact that this theme is available in both light and dark versions and that there are free font and icon options included on board.
---
Edos LightPlus – Beautiful Animated Powerpoint Versatile Template
Versatility, high quality animations and cleanliness are just but a few of the reasons why Edos 2.0 remains perched at the helm of most reviews. With 12 color options to choose from (dark and light variants), this package gives you all the freedom you need to get creative. On top of that, you get 1476 unique slide options to choose from, each one of them with full clean animation, 100% live chart and easy-to-edit content.
---
Business – Modern Presentation Powerpoint Template
The main challenge with using PowerPoint templates is that finding a color scheme that exactly matches with your corporate or individual needs can be a little tricky. Fortunately, this unique template presents you with 12 awesome premade color schemes. These range from blue-green, green, blue, aqua, red, purple, orange, black-turquoise, yellow-black, colored-dark, and yellow-dark. As if that's not enough, this template comes with 4200+ slides and 100+ unique handcrafted sliding options both in PPT and PPTx formats. Finally, there are 500+ editable icons which allow you to customize every tiny aspect of your presentation to your liking.
---
Universe Creative PowerPoint Template
Any business that wants to remain ahead of the curve should always strive to get its numbers right – and that's exactly what this PowerPoint Template is all about. Bring home over 100 unique slides; this is a sure way to enjoy unlimited freedom and power to be creative. On top of that, the full package offers a 16:9 which as you might be aware is all you need to ensure no images are broken. To complete the fantastic package are 500+ easy-to-edit icon kits, data-driven charts and drag-drop picture holders.
---
Feature Film – Latest Film Project Presentation Template
Compatibility is the name of the game in the modern-day world of presentations. With that in mind, the Feature Film Pitch Deck template stands out as a fantastic pick for any person who would like to have their presentations accessible either through desktop, laptop, tablet, mobile and print media. And to make sure that every tiny detail of your presentation comes out intact, this template boasts 16:9 aspect ratio, superb for HD image presentation. In total, there are 400+ slides (34 of them unique) and fantastic placeholders for objects and social media handles.
---
Startup – Clean and Modern Pitch Deck Powerpoint Template

Home to 120+ PowerPoint slides and 950 slides, Startup is the perfect option for anyone looking to explore multiple color options. The beauty about this high-end PPT template is that it is super-easy to use and you don't need any web development skills to get the most out of it. This is in line with the sensational claim linked to it to the extent that it is based on "Forbes guidelines on building professional presentations."
---
Hisale – Powerpoint Presentation Multipurpose Template

You cannot write-off Hisale even in a world full of competition. Why? Because this is one of the most dynamic templates you'll ever come across. First off, it has 130+ unique slides which give you the versatility you need to hoist your brand higher than the rest. On top of that, Hisale comes with built-in 4 color schemes alongside a long list of incredibly charming features. And to make sure you never have to purchase another premium template ever, this multipurpose comes with 3900+ slide options in total, all available in 3 aspect ratios. In other words, there's no room for compromise as much as you're using this intelligently designed theme.
---
Best PowerPoint – Clean and Elegant Multipurpose Presentation Template
Its name says it all. This template is designed to be the best on the market, with winning features meant to help you create eye-catching presentations in no time. Within the package are 567 unique slides – probably the highest we've come across so far. Once you lay your hands on this, you'll enjoy unlimited access to 4500 vector icons which are also fully editable. And just in case you want to tweak the native design to suit the extremely unique needs of your brand, you'll be happy to learn that Best V3 comes with 90 trading theme colors. Last but not least, this PPT presentation comes with lifetime free updates and friendly support.
---
Bromo – Powerpoint Creative Multipurpose Presentation Template
If you're looking for the best value for money, Bromo Multipurpose PPT is, no doubt, the optimal deal to mull over. Not only is it cheaply priced but also comes with 150 unique slides and 30 premade color schemes. For extra customization options, there are 10 theme color schemes spanning from light, dark, Tosca color to the likes of blue and purple. Its widescreen 16:9 widescreen aspect ratio is no doubt a boon for anyone looking for added visual appeal.
---
Album – PowerPoint Business Product Presentation Template
You can't go wrong with the over 1400 unique slides that Album provides for you. And if you thought that was all, this cute little theme comes with 7 premade color schemes with fully editable shapes and icons. Keeping in mind the fact that you may need to have your presentation in distinct aspect ratios, this one offers both 4:3 for small screens and 16:9 for wide screens.  So, once again, this is a fantastic launching pad for anyone looking to go all out on quality presentations.
---
Paradox Line – Powerpoint Business Presentation Template
You may be looking to analyze large amounts of data or present new ideas – so, how do you go about this without cutting out important details? In comes the Paradox Line PPT template with 80+ premium slides. To crown it all up, this theme has a built-in ability to edit charts via excel, alongside world maps, free device mockups as well as 120+ fully-editable vector icons.
---
Flow – Powerpoint Business Show Presentation Template
If you want to keep fresh ideas flowing, the Flow template which comes with 600+ total slides gives you the best bang for your bucks. Professional and clean at the same time, this theme is superbly done and easy to use. In fact it has 3 color options which take customizability to a whole new level. Looking to present raw data? You only need to feed it through an excel file and this template will do the heavy-lifting for you.
---
Volt – Business Creativity Presentation Template

Volt is one of the top-selling and popularly reviewed PPT templates on the market and there are many reasons why this is the case. To begin with, this theme presents you with more than 120 unique slides – including portfolio sections, charts and infographic elements. The icing on the cake is that Volt comes with resizable and editable vector icons thereby completing the entire equation of quality, value and professionalism.
---
Alpha – Fresh and Modern PowerPoint Template

The mantra for the Alpha PPT template is that "Without change there is no incentive for improvement" and clearly, everything from its build, design and style is meant to push your creativity to the limits. Indeed, Alpha is designed to use a meticulous grid which makes it extremely easy to sell your vision through full-screen slides that crisp clean and memorable. Above all, it boasts easy-to-change colors and versatile icon fonts.
---
Bigness Presentation – Powerpoint Custom Animation Template
There's something incredibly outstanding about this template – and NO, it has nothing to do with the 70+ slides. The Bigness template has award-winning image placeholders which make it possible to present data in an attractive format. Best of all, you can relay your files in 16:9 aspect ratio which is fantastic when seeking to create an awe-inspiring visual appeal.
---
Creative Business – PowerPoint Unique Slide Template
Some PPT slide templates are, no doubt, more equal than others. The Creative Business template for instance towers above the competition with its 30,000+ slides in total – dwarfing its competitors who at most a few hundreds of slides. What's more? All the slides are animated and available in editable vector shapes. To top it all up are 99 color schemes and drag-and-drop image placeholders.
---
Premizo – Modern Powerpoint Show Template
Designed with simplicity in mind, Premizo is an instant darling to individuals looking for fully editable and customizable slides. It comes with 100+ unique slides which you can comfortably present to your audience in standart (standard) or widescreen sizes. And to make sure the theme is editable, this unit comes with a 100+ icon pack which allows you to tweak the building blocks and achieve a dream look.
---
Termos – Clean and Scalable Template For Presentation
Termos may not have any bells and whistles but it certainly is worth its weight in gold. Think about it this way – Termos offers you a total of 2332 slides to choose from, plus you can play around with 16:9 and 4:3 aspect ratios. That's not forgetting its 11 color schemes and adjustable icons which complete a clean and scalable multicolor template.
---
Galaxy – PowerPoint Template For Creative Business
An animated PowerPoint presentation template can make it a tad easier for you to design presentations from scratch. The Galaxy template boasts 85 unique handmade slides which are great for extracting reports particularly ones capturing essential data on key performance indicators, social media performance and research data. Best of all, data charts can be easily edited through Excel and thanks to its 4 color scheme, you can use Galaxy to create animated presentations that live up to your brand's image. And to make the deal even better, this template comes with built maps covering every corner of the world – including Africa, Brazil, New Zealand, Argentina and Chile among others.
---
Vigil Premium PowerPoint Template for Business
If you're in the market for a vivid PowerPoint presentation tool, the Vigil template by Pain Design might simply be the theme you're after. Not only does it pack a decent 150+ unique slides and 16:9 wide-screen capabilities but it's fully editable as well. Indeed, it comes with 500+ icons kit which you can edit and tweak as you'd like. And to leave nothing to chance, you'll find fantastic device mockups just waiting for you when you give this template a shot.
---
Corporate Overview PowerPoint Template
Ranked among the best-selling keynote presentation templates in town, Corporate Overview is a clean, easy-to-use template that comes with all the vector icons, infographics, diagrams, charts and maps you need to create memorable presentations. And in case you're really choosy with color schemes, the fact that this package presents you with 22 color options will be enough to reassure you that you can tailor every slide in line with the demands of your brand. Last but not least, flexibility is the name of the game and this modern-looking template does not let you down as it comes with 5000+ total slides.
---
Final Thoughts
---
Well, the truth of the matter is that there are hundreds if not thousands of free and premium PowerPoint presentation templates in the world. Therefore, if you're thirsting for quality or simply looking for a few more high-quality slides, there's no limit to the heights you can conquer with your imaginations. So go ahead and give your next presentation that much-needed quality boost by giving any of the 50+ options reviewed above.
Already tried? Share your thoughts with us in the comment box. Found this helpful? Share the article with your social media friends and help bring an end to the era of mediocre presentations.
---
Editor's Note:  This post was originally published in 14 Dec, 2016 and has completely revamped and updated for accuracy and comprehensiveness
https://www.wpfreeware.com/new/wp-content/uploads/2015/04/featured-animated-powerpoint-templates.jpg
300
450
Hazel H
https://wpfreeware.com/new/wp-content/uploads/2017/07/cropped-wpfreeware.png
Hazel H
2015-04-05 17:38:33
2019-10-22 01:33:58
50+ Cool Animated PowerPoint Templates Free & Premium