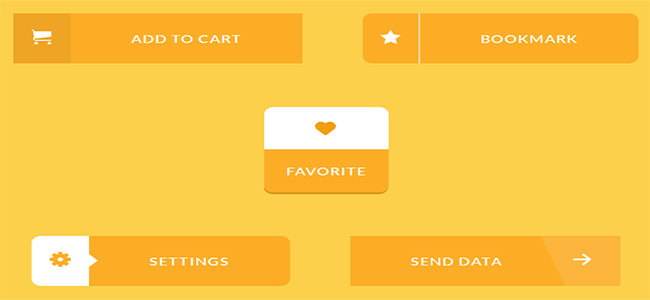 Make your button hover effects unique with CSS3 button animations for creating beautiful & unique website templates
Are you a web designer? Looking for some amazing button hover effects? Then let's go, we showcased here some of the best css3 button animation for hover effects which you can use to implement cool effects on your elements.
Button is a must have element for any kind of website. By using CSS technology you can create beautiful buttons. If you want to create some unique buttons with unique hover effects then you have to spend some time on that. But if you have no time to make your own designed buttons then some alternative ways you can try.

Some great designers already made some website to provide beautiful css3 buttons which called css3 button generator. You can search over google with this keyword "css3 button generator" & you will get some websites to create your buttons. This kind of websites are really great to create ready mate beautiful buttons. I also used them especially when I build free website templates for my viewers.

We talked above about css3 buttons only but what about button hover effects? If you need to implement some beautiful & unique button hover effects into your design then what? You have 2 ways to solve this issue. One is, you create your own button hover effects or use other effects by other designers. Yes! Some amazing designer already made some creative button hover effects which you can use for your any kind of projects. Here we introduced some best css3 button hover effects which will make your design beautiful.
Hover.css
Hover.css contains some amazing and unique css3 hover effects which can be use in buttons,logos,featured images etc.

---
Creative Button Styles
Modern and subtle styles & effects for buttons (hover and click). If you need to implement some creative css3 hover animation into your buttons then you can do it easily through Creative Button Styles.

---
Creative Link Effects
Wow! Really Creative effects. I used these effects on some of my clients project. I must say this kind of effect can make your design more stunning.

---
CSS3 hover effects for button & div elements
Here is some cool css3 hover effects you can try, all these effects created using CSS3 transitions, transforms & animation properties. Various types of effects you will find in this example like skew, rotate, fade, animations & some others.
---
CSS Button Hover Effects
This style pack will be very helpful when you need button hover animations into your buttons. Some beautiful hover effects variations are available into this button style pack. I like especially the Doors, Open,Expand, Lines & Flip effect.

---
Icon Hover Effects – Simple hover effects for circular icons
If you are making any premium template for themeforest or somewhere else & looking for some creative icon hover effects then here it is. You should try this because it's really amazing I can only say.

---
Buttons hover effect
Another nice button hover animations which will help you to make your button live.

---
Wacom button:hover effect
---
Animated Buttons
This button style pack comes with 7 different hover effects which can definitely make your design creative.

---
CSS3 Hover Transitions
Beautiful & fancy style css3 circle button hover effect which can give a extra look to your template.

---
Four Simple and Fun CSS Button Hover Effects
---
Conclusion:
Lot's of CSS3 button animations available out there. But we have tried to bring here only the best CSS3 button hover effects/animations for you. If you found anyone that also awesome & we have missed to mention here feel free to let us know about it by commenting below. Thank You!
https://www.wpfreeware.com/new/wp-content/uploads/2014/10/Creative-Button-Styles.jpg
300
650
Hazel H
https://wpfreeware.com/new/wp-content/uploads/2017/07/cropped-wpfreeware.png
Hazel H
2014-10-01 14:15:24
2016-11-21 07:45:43
11 Incredible css3 button animations for hover effects